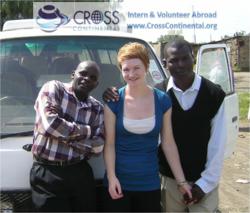 Falling victim to immigration marriage fraud can cause serious financial and emotional devastation. Cross-Continental Solutions has recently released some helpful tips to keep international travelers informed and protected.
Vancouver, BC (PRWEB) March 29, 2013
Many travelers to developing nations report getting marriage proposals abroad. While it is possible to find true love in a foreign country, sometimes love is not what the other party is after. Immigration marriage fraud, also known as green card marriage, occurs when one or two parties enter into a marriage primarily for the purpose of gaining citizenship. Oftentimes, the person who is sponsoring a foreign husband or bride is being scammed and is fully unaware of the deception until it's too late. It can cause serious damage to the victim, including financial liability and emotional depression. Many organizations, including the U.S., British, and Canadian government, have launched awareness campaigns to educate their citizens about the seriousness of immigration marriage fraud.
The best way to protect one's self is to become well informed. The chances of falling victim to fraud usually increase for those who are staying abroad for an extended period of time, such as travelers who are doing mid to long term volunteer vacations or intern abroad programs. To protect international volunteers and interns, Cross-Continental Solutions has recently released some important tips to help travelers avoid becoming a victim of immigration marriage fraud.
Some of the most important signs to watch for are:

If the Foreign National Jumps into Marriage Very Fast
International travelers should be realistic about the progress of a relationship with a foreign national. It is wise to be patient with the new relationship and invest lots of time into getting to know the foreign national. In other words, "Take Things Slow". If the foreign national seems to want to accelerate the relationship, warning bell should be going off. Be cautious if foreign nationals express strong feelings after just a few contacts, such as "you are the love of my life". Take it with a grain of salt. Be sure to spend enough time with the foreign national that all doubts are erased. Sometimes it may be wise to do a little background investigation before getting too involved.
If the Foreign National Asks for Money or Does Not Want to Share Expenses
It may be a warning sign if the national doesn't want to share expenses while dating or asks for money or gifts for their family and friends. Many people get scammed because their foreign lover makes one excuse after another to get money from them.
If the Foreign National is Not Interested in Teaching Their Partner about Their Culture or Language
It is recommended that one take precautions if the foreign national is only concerned about learning English and western culture, but not very interested in sharing anything about their own culture or language. This can be an indication that the foreign national only cares about acquiring the skills needed to free themselves from sponsor dependence as quickly as possible.
If the Foreign National Does Not Have Any Hesitation to Relocate to a New Country
If the national seems eager to leave his friends and family, and only seems interested in life in the developed nation, this could be a sign that their love interest is less than sincere.
If the Foreign National Seems Hyper-focused on Getting Their Residency Card
If citizenship or residency card is what the new husband or bride seems most interested in, it may be a sign of a problem. If the primary purpose of marriage is to be with the one they love, then getting a residency card should be a fringe benefit at best. If the foreign national spends a great deal of time researching immigration procedures or repeatedly hounds their sponsor to fill out paperwork, it may be a sign of an illegitimate marriage.
If the Foreign National Changes After Leaving Their Home Country
Sometimes foreign nationals, who were not demanding in their home country, start to demand things once they move to the new country. Before they left their home country, such foreign nationals were easy-going, had no problem with intimacy, weren't demanding, and parroted the same values as their potential sponsor. After their arrival in the new country, they all of a sudden seem like a different person and may even start demanding things that they didn't even care about before. They may become even more difficult as they start getting ready to move on.
The list is by no means absolute or exhaustive, but serves as a good start to help travelers be aware of this devastating problem. Keep in mind that it is usually those who are most emotionally vulnerable that fall prey to marriage scams. The new relationship glow can make them so full of hopes and dreams that they are blind to the truth. Sadly, many never notice the signs until it's too late.
Whether it is someone from an online dating site or someone from a short vacation abroad, it is important to think twice before sending money or sponsoring foreign nationals. The potential risks include financial and emotional devastation; It can cost much more than just a broken heart. For more informative advice and resources, sign up for free E-books at http://www.CrossContinental.org and get great tips via email.
About Cross-Continental Solutions:
Cross-Continental Solutions provides quality yet affordable volunteer abroad and intern abroad programs, ensuring an exceptional cross-cultural experience for those who wish to make a difference. Such international programs are becoming increasingly popular since one can travel and gain experience at the same time. Many college students take international internships for school credit. It is unique in that participants live and work side by side with the local people. Covering a wide range of needs, opportunities are available in areas such as: Teaching, Healthcare, Community Development, Business Coaching, HIV work, Care-giving, Orphanage Work, Journalism, Photography, Wildlife, Agriculture, Environmental, Micro-financing, Tourism, Marketing, and more. There are also cultural education, language immersion, and gap year programs. Programs are available at many locations around the world, including Africa, Asia, and Latin America.