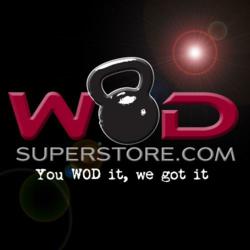 Partnering with experts in e-commerce fulfillment and customer care would be the best strategy from day one" said Bill Doherty, Director of Marketing at WOD SuperStore
Salamanca, NY (PRWEB) November 30, 2012
Adeptiv Solutions, the leading provider of order fulfillment and call center services, announced WODSuperStore.com, the #1 provider of all things CrossFit to the CrossFitter, has selected them to provide order fulfillment and call center services to their growing business. The company was looking to enhance their customers experience by providing world class customer service from day one.
WODSuperStore.com is an on-line retailer that services a fast growing fitness market known as CrossFit. With its aggressive growth strategy, WODSuperStore.com new they needed to deliver on a great customer service experience time and time again. By outsourcing to Adeptiv Solutions they felt they could deliver on their brand promise even through aggressive spikes in volume.
"In order to deliver a great customer experience we felt that partnering with experts in e-commerce fulfillment and customer care would be the best strategy from day one" said Bill Doherty, Director of Marketing at WOD SuperStore. "This allows us to focus on what we do best, finding the best products for CrossFitters to enhance their CrossFit WOD's (workout of the day's) and be confident that we have a great operations team behind us."
"CrossFit and the "sport of fitness" is a market in which we have established ourselves as the premier CrossFit warehouse" said David Ellin, Vice President of Adeptiv Solutions. "We are proud that WODSuperStore.com recognized that and selected us as their outsourcing partner. Their vision of providing a world class customer experience is in alignment with our company's mission so it was a perfect fit."
Mr. Ellin further explained that, "Our specialization in the CrossFit industry stemmed from some of our team members' passion for the sport itself. We understand the industry and the sport, which helped us to tailor a very specific full scale fulfillment program for companies selling CrossFit products. All you have to do is sell the product – we integrate with your online web store and take care of all of the shipping and customer service for you."
About WODSuperStore.com
WODSuperStore.com is the premier provider of all things CrossFit to the CrossFit Athlete. Working with over 50 vendors they bring together the best CrossFit specific products to passionate CrossFitters everywhere. They provide the best customer service in the industry by offering a $4.99 flat rate shipping fee to the US and a 365 free return policy.
About Adeptiv Solutions
Adeptiv Solutions is the leading provider of Outsourced Order Fulfillment and Contact Center Solutions to e-commerce companies, retailers and manufacturers. Built on cutting edge technology and a focus on OPTIMIZING our customers brand and business, we build our customers loyalty by maximizing every customer touch point. To learn more about how we can help your business contact David Ellin toll free at 855.233.7801 or visit http://www.adeptivsolutions.com