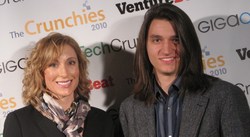 It Pays to be Popular on Facebook and Twitter
Bethesda MD (Vocus) April 21, 2010
Subvert and Profit today announced the "It Pays to be Popular on Facebook and Twitter" Campaign that rewards its social media crowdsource workers with new task bonuses based on a the number of friends and followers a User has on their Facebook and Twitter accounts. Subvert and Profit Users earn money for fanning Facebook pages, following Twitter accounts, tweeting URLs, hashtags and phrases and posting phrases and URLs to their walls in a unique service rolled out by Subvert and Profit in January 2010. The new campaign pays task bonuses when Users have more than 50, 200 or 350 friends or followers.
Subvert and Profit Users are paid to make social actions such as voting and viewing web content that is embedded into 21 social networking sites where Subvert and Profit operates. Subvert and Profit Users based in the U.S. with more than 350 friends can now earn $0.55 for a wallpost or tweet while those with less than 50 friends earn $0.25 per task. Friend levels between 200 and 349 and between 50 and 199 earn $0.45 and $0.35 respectively per task.
Subvert and Profit Director Andrew Nellis said "The 'It Pays to be Popular' campaign is designed to attract and reward super-users in a way that meets strong demand from our advertisers for our Facebook and Twitter service. With this social media innovation, the more friends Users have, the better the message resonance and the more lasting the customer engagement."
About Subvert and Profit
Subvert and Profit is a social media crowdsourcing company acquired by Crowdsource Corp. Since 2007, advertisers and search engine optimizers have placed thousands of print, blog, audio and video content assignments that Subvert and Profit has advanced to site front pages, where they have received millions of views. By crowdsourcing votes, views and fan assignments to its over 30,000 worldwide users to pump stories, music and videos to popularity, Subvert and Profit offers the best priced form of customer connection on social network sites including Facebook, Twitter, YouTube, Delicious, thesixtyone, ILike, Mixx, Reddit, Propeller, DailyMotion and Stumble Upon. Subvert and Profit successfully delivers a diverse supply of unique votes, fans and followers by real users.
# # #