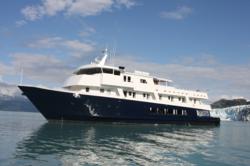 Frankly, I had a hard time figuring out what to put on a Facebook page that isn't already handled on my website
Mill Valley, CA (PRWEB) June 15, 2012
Steve Faber, independent adventure travel, river cruising and expedition cruise specialist, and owner of Bay Area-based CruiseOne Mill Valley, admits coming late to the social media party. Faber soon understood that reaching further into the internet can not only bring him closer to his CruiseOne Mill Valley clients and also to offer his cruise services and cruise discounts to even more people.
"Frankly, I had a hard time figuring out what to put on a Facebook page that isn't already handled on my website," Faber said. "Our website allows users to do everything from looking up pricing and booking vacations to getting graphical forecasts of the wave heights they're likely to encounter on their upcoming cruise."
Faber needed a better reason to take the dive into social media than "because everyone else is." Then it came to him. The new page would be devoted to things fun and "entertaingly informative," with little or no focus on business or transactions. Instead, the page, reachable at Facebook.com/stevefabercruiseone as a weekly travel trivia quiz, a daily "Travel Photo du Jour," from Faber's extensive portfolio of professional travel and wildlife photography, and much more. A downloadable travel-themed puzzle section is also on the works.
Social media is not the only technology embraced by CruiseOne Mill Valley. To ensure a smooth and simplified cruise vacation, the company has a customized smart phone application, for both Android and iPhone users, with information on each client's cruise line, ship and itinerary. CruiseOne Mill Valley also provides an easy-to-use and detailed website, and electronic luggage locators to help clients locate their luggage easier at the end of a cruise.
For more information on CruiseOne Mill Valley, call 415-322-3523 or view CruiseOne Mill Valley on the web at http://www.greatshiptrips.com.
About CruiseOne Mill Valley
Traveling the world as a travel writer to report on cruises, Steve Faber has been blessed with the opportunity to sail on 98 cruises on 71 ships of 31 cruise lines. As an independent CruiseOne cruise specialist, Faber capitalizes on combining his knowledge of ships and destinations with the powerful marketing clout and superlative client service of CruiseOne, the world's largest seller of cruise vacations. Faber serves the Bay Area. Contact him to discuss cruise itineraries, cruise discounts, adventure travel, river cruises and more.