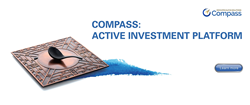 CSOP Compass Platform aims to present China equity investment intelligence by systematically assessing China's 8,700+ sunshine managers. CSOP Compass Platform not only discovers top performers, but also equips top performers with rigorous and internationally standardized risk management frameworks.
HONG KONG (PRWEB) September 17, 2018
With the gradual inclusion of China's A shares into MSCI global index framework, more and more global investors start to look at China's equity market and wait for a good timing and vehicle to get access to the world's second largest economy. CSOP Asset Management Limited ("CSOP"), well known as the largest RMB qualified institutional investors ("RQFII") and one of the largest China offshore China A shares ETF providers, has been introducing its CSOP Compass Platform to global investors who are looking for alpha opportunities in China A shares.
CSOP Compass Platform is a solution that's designed to offer the quality China alpha opportunities, connecting talented onshore sunshine fund managers to the international investment community. The initial idea of CSOP Compass Platform was firstly formed in 2013 when CSOP issued a RQFII mutual fund with 3 China onshore sunshine managers as investment advisories. The great success achieved by this fund inspired CSOP to develop the idea into a more sophisticated and systematic investment solutions which is CSOP Compass Platform in which there are more than 20 excellent China sunshine managers out of 8,700 onshore sunshine managers scanned. Through the platform, CSOP is currently providing tailor-made investment services in various legal structures to global investors from main financial hubs with total asset under management of more than RMB 2bn. (Source: CSOP, as of Aug 30, 2018)
Sunshine Managers –highly incentivized China A shares investment talents with trackable performance, transparent and flexible investment practices
The asset management industry is one of the fastest growing business sectors in China. Privately managed (non-retail) funds in China, often referred to as "sunshine funds" by local practitioners, are regarded as reputable China A share investors – the managers are typically spin-outs from large local asset managers, brokers and/or insurance companies. The term "sunshine" comes from the more transparent practices on information disclosure and by holding assets in third-party banks, as opposed to earlier private funds, which were largely unregulated.
Sunshine funds have more investment flexibility than mutual funds with historical material outperformance. Private fund business has been a young but growing industry with recent emergence of market leaders. Unlike mutual funds, private managers have equity stakes and are highly incentivized. As many as 80% of these Chinese sunshine (hedge) funds are long-only or long-biased equity managers, given shorting of individual stocks both difficult and expensive, but the portfolios are typically concentrated with active rotation of themes and greater use of cash for downside protection. We consider them as hedge funds with Chinese characteristics. (Source: CSOP, AMAC, as at the end of 2017)
CSOP Compass Platform- one-stop solution to connect quality China onshore sunshine managers to global investors in tailor made structures with international risk management standards
Domestically, sunshine funds are only accessible to high-net-wealth individuals and institutions, although we start to see foreign institutions showing interests.
The sunshine funds are inaccessible to non-China investors directly, but advisory model may work through an offshore fund or managed account, utilizing Qualified Foreign Institutional Investor (QFII) quota, RQFII quota or Shanghai-Hong Kong or Shenzhen-Hong Kong stock connect scheme.
CSOP Compass Platform is a solution that's designed to offer the quality China alpha opportunities, connecting talented onshore sunshine fund managers to the international investment community.
Committed to the mission of "leading the World's China Investment", CSOP Compass Platform systematically assesses China's 8,700+ sunshine managers (source: Asset Management Association of China, by the end of June 2018). CSOP Compass Platform not only discovers top performers, but also equips top performers with rigorous risk management frameworks.
Most investors understand that China is becoming a market too big to ignore and sunshine managers may offer higher alpha. However, execution is where most foreign institutional investors find difficult. China is not known for providing transparent and consistent data, and there is no database available to evaluate qualified sunshine managers. Most local databases are oriented to retail investors only with the screening purely based on return rankings and fee competitiveness. Global databases have limited coverage in China, especially for sunshine managers, thus foreign institutional investors can only access the sunshine managers who happen to have an English-speaking salesperson. Some most common concerns for a typical domestic sunshine managers are: does not speak English; has little to no experience in structuring cross-border investments; lacks compliance and risk functions that follow international standards; frequently changes investment style in attempt to capture changing market sentiment; cannot promise security of assets due to repatriation concerns; lack of audit and tax guidance, etc.
"This is where CSOP Compass Platform adds value. We screen, select, and monitor the quality China alpha managers by categorize the investment styles into locally defined Growth, Value, Growth plus Value classifications. Meanwhile, we also streamline the investment process, ensure each step is transparent and secure, proper risk control and compliance measure is also in place. It is China local investing made, safe and simple!" Ms. Wang Chen, Portfolio Manager of CSOP Compass Platform concluded.
About CSOP Asset Management Limited
CSOP Asset Management Limited ("CSOP") was founded in 2008 as the first offshore asset manager set up by a regulated asset management company in China. With a dedicated focus on China investing, CSOP manages public and private funds, as well as providing investment advisory services to Asian and global investors. Managing the largest RMB equity and fixed income ETF listed in offshore China, CSOP is the largest RMB Qualified Foreign Institutional Investor ("RQFII") asset manager globally. As of 30 June 2018, CSOP had US$ 4.5 billion in assets under management.
For further information, please contact
Larry Wang / 3406 5613 / larry.wang(at)csopasset(dot)com
Issuer: CSOP Asset Management Limited
This document is prepared for the use of presentation, illustration and discussion. It is intended for professional investors only and is not legally binding. It should not be considered as an offer or solicitation to deal in any investment products. CSOP Asset Management Limited ("CSOP") which prepared this document believes that information in this document is based upon sources that are believed to be accurate, complete, and reliable. However, CSOP does not warrant the accuracy and completeness of the information, and shall not be liable to the recipient or controlling shareholders of the recipient resulting from its use. CSOP is under no obligation to keep the information up-to-date. The provision of this document shall not be deemed as constituting any offer, acceptance, or promise of any further contract or amendment to any contract. This document should not be distributed to any parties without the written consent of CSOP. Nothing herein shall be construed as granting the recipient, explicit or implicit, any license or right to the information in this document.
Investment involves risk. Past performance figures are not indicative of future performance. The value of units may rise as well as fall. Investors are reminded that in certain circumstances their right to redeem may be suspended. We recommend investors obtain and read a copy of the offering documents (including risk factors) before investing. Investors should not make any investment decision solely based on this document. This material has not been reviewed by the Securities and Futures Commission ("SFC") in Hong Kong.