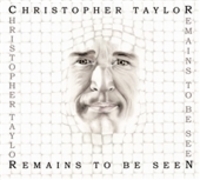 His lyrics are very personal and tell his own story, on the other hand they are universal and ring true to the heart. His music is a beautiful blend of soft rock, folk and new age, which will be well-suited for certain international audiences.
Los Angeles, CA (PRWEB) January 18, 2009
A few months into its mainstream release, Christopher Taylor's solo album Remains to Be Seen from Organically Grown Music is being hailed by critics as intense, funky, reflective, and even a bit raucous. The unique folk/new age album makes its international debut this coming week at MIDEM 2009, represented by Suzanne Doucet of Only New Age Music, Inc.
"There are only a few New Age Vocalists and most of them are mostly Celtic, Gregorian or Mantra chants. Christopher Taylor is an exception. His lyrics are intelligent, encouraging and engaging. Christopher Taylor's songs on his new thought album Remains to Be Seen are inspiring for anyone who is on a spiritual path and/or experiences personal growth and transformation, and who enjoys the folk sound," Doucet says, adding, "His lyrics are very personal and tell his own story, on the other hand they are universal and ring true to the heart. His music is a beautiful blend of soft rock, folk and new age, which will be well-suited for certain international audiences."
Taylor records in his studio in Nevada City, CA, where he moved several years ago to reduce his stress level and to live a more conscious lifestyle. He co-founded Organically Grown Music (OGM) with fellow musician Johnny Om in 2003, and co-produced their first CD, Organically Grown, by The Bodhi Brothers. Taylor sustains himself with conscious eco-commerce, via sales of Amazon Herb Co. organic products that contribute to the preservation of the Amazon rainforest. He is exploring the idea of cross-promotions featuring his music and the organic food, health and beauty products, and is open to promotional partnerships with creative retailers, who can purchase the CD from New Leaf Distribution.
Taylor's songs on Remains convey a sense of spirituality and self-inquiry through his deep voice and lyrics, as well as his use of vocal harmonies, solid rhythms and vivid tones of his 12-string and electric guitars. There are 13 tracks on Remains to Be Seen, which is available at mainstream retailers, specialty gift stores, and via online music stores.
In an early review, VISION Magazine wrote, "It's really hard to find music that actually has a message behind it. So when I picked up Christopher Taylor's CD Remains To Be Seen, I was immediately impressed with the fact that this guy is actually singing about things that are happening in my life. I think it's the fact that Taylor is singing about experiences that he's had in his own life and reflections about the world surrounding him that make it worthwhile. Some of his songs, like The Hum and Oudman, are just fun beats that kept my head bobbing while at work.
Veteran reviewer Lloyd Barde wrote, "While his CD is thoroughly modern, I found it noteworthy that two musical reference points were a couple of icons from decades past, namely The Moody Blues and Jimmy Buffett. The messages and intermittent harmonies are closer to the universality of The Moody Blues, while what I heard in common with Buffett is the often laid-back island flavor, not the lifestyle!"
According to Taylor, the song "Love's Around the Corner" is about determination and human courage, to persist in following your dreams even when you're feeling your lowest, while "Come to the Center" bears a simple message, but one that's very easy to forget in our busy lives. From its first line, "The Sun Shines" declares: "Die to yourself and free your soul," which, he says, "simply means that if we're going to grow beyond ourselves, we need to let something of the old self, and its habits, die off. The upbeat Oudmon is a touching tribute to an unforgettable and inspiring family friend with Down Syndrome.
Taylor offers, "As singer/songwriters, we (at OGM) want to connect with our audience and have them feel supported by our music. I like to write about the fears and the moments of inspiration that are universal to all human nature."
Taylor collaborated with label partner Johnny Om on the album, as well as co-producer Jack Lee, percussionist MB Gordy, vocalist/violinist Onyay Pheori and flute/sax/pennywhistle player Richard Hardy. The songs benefit from the excellence of veteran players such as Lee and Gordy, who have (collectively) played with Bluegrass legend Earl Scruggs, Tracy Nelson & Mother Earth, John Tesh, Loggins and Messina, Frank Zappa, Three Dog Night, Bill Withers, REO Speedwagon, Neil Diamond, and Green Day.
OGM has hired a collective of specialists to work the album, which debuted on the Top 100 chart in New Age Reporter in October 2008. Kathleen Monahan of KDM Promotions is on board to service radio, Clay Pasternak promotes to retail, Greg Steffan books retail performances and Suzanne Doucet of Only New Age Music consults on outreach to the new age and new thought community, as well as at MIDEM 2009 for international distribution. The OGM label is also supporting the new releases with print and internet advertising campaigns in magazines like New Age Retailer, The Leading Edge, and with an online marketing push.
While Taylor has been playing local gigs in support of the new album, he says forthcoming productions may include a more mellow series of instrumental music for meditation and relaxation; in other words, music with a "more traditional" new age sound. For performance updates, media photos, videos, music downloads and more, visit the Organically Grown Music website or Sonicbids. Fans are encouraged to join a growing community of like-minded folks at the label's official website, and on MySpace.com.
About Organically Grown Music:
Co-founders Christopher Taylor and Johnny Om refer to their label's repertoire as a relaxed, unbuttoned mix of mellow alternative folk/blues sounds. The co-founding singer/songwriters released three albums in the folk rock and new age markets in 2008, including Taylor's Remains to be Seen. The label is based in Nevada City, CA, where the duo enjoys playing local gigs as The Bodhi Brothers.
About Christopher Taylor:
Christopher lives near Nevada City area where he has his own studio and uses the sales skills developed during his earlier years to preserve the Amazon rainforest through sustainable eco-commerce at Rainforestalive.com. He is a founder of Organically Grown Music. He has a beautiful daughter and two lovely step children.
Contacts:
Organically Grown Music
578 Sutton Way
Suite 106
Grass Valley, CA 95945
888-263-4422
Beth Ann Hilton
Publicist
The B Company
Direct: 310-560-8390
bethhilton at thebcompany dot com
# # #