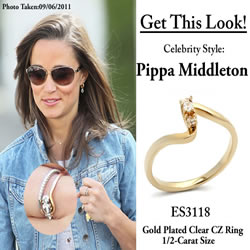 EternalSparkles.com is giving its female clientele one more reason to shop for cubic zirconia rings, bridal jewelry, celebrity-inspired rings, and animal-inspired bands – all of which are priced under $20.
City of Industry, CA (PRWEB) August 03, 2011
Online depot EternalSparkles.com prides itself in beautifying fashionistas without breaking their banks. This is why the leading fashion jewelry depot is giving its female clientele one more reason to shop for cubic zirconia rings, bridal jewelry, celebrity-inspired rings, and animal-inspired bands – all of which are priced under $20. With over 200 styles available for just below $20, there is no reason for stylists not to invest on fashion jewelry.
Celebrity-inspired cubic zirconia rings are one of EternalSparkles.com's best selling fashion jewelry items. Celebrities who inspire the fashion jewelry depot's cocktail and cubic zirconia rings include her royal hotness Pippa Middleton, Latina sensations Jennifer Lopez, Eva Mendes, Black Widow Scarlett Johansson, and Pussycat Doll Nicole Scherzinger. When it comes to cocktail rings, fashionistas should not miss out on the seductive 1 Carat Sapphire Cubic Zirconia Ring, Gold Plated Pink CZ Ring, Two Tone Black Onyx Fashion Ring, and Gold Plated Smokey Topaz Crystal Floral Ring. Not only are these fashion jewelry rings eye-catching, they make its wearer stand out because of the quality and uniqueness of its style.
Brides-to-be need not worry because EternalSparkles.com also offers bridal jewelry under $20. Weddings are expensive but engagement rings and wedding bands do not have to cost that much. These days, women tend to be more practical which makes EternalSparkles.com's collection of bridal rings one of the best selections to choose from. Not only are bridal cubic zirconia rings from Eternal Sparkles elegant, they are also classic and timeless. From eternity bands to commitment rings, from CZ engagement rings to wedding sets, EternalSparkles.com is sure to have it.
Other styles worth checking out are party fashion jewelry which includes animal-inspired cubic zirconia rings. Snakes are considered lucky, so it's best that fashionistas have at least one in their collection. The Silver Plated Amethyst CZ Snake Ring is a good accessory because of the drama and style it exudes. For women who prefer understated but graceful fashion jewelry, invest in pearl jewelry for the ultimate chic glam.
To top off this offer, the cubic zirconia rings specialist is giving away complimentary shipping for orders over $50. The special promo, which is applicable to all 48 U.S. domestic states, is the perfect excuse to shop for fashion jewelry. Aside from cubic zirconia rings, bridal jewelry, animal- and celebrity-inspired jewelry, EternalSparkles.com also has a wide selection of stylish earrings, eye-catching necklaces, and elegant bracelets.
Join the company's mailing list or visit EternalSparkles.com's official blog for the hottest trends, tips, and updates on styling with fashion jewelry.
About EternalSparkles.com
City of Industry in sunny California is home to EternalSparkles.com, an online fashion jewelry store that specializes in cocktail jewelry such as cubic zirconia, sterling silver jewelry, and Austrian crystal jewelry. The company has a wide selection of fashion jewelry including fashion rings, sterling silver rings, bracelets, pendants, brooches, necklaces, and earrings. Fashion jewelry is sold at a wholesale price with a lifetime warranty. New styles of fashion jewelry arrive weekly. Press release produced by Cybertegic.com – an Internet marketing services agency that specializes in search engine optimized press release marketing (SEO Marketing).
###