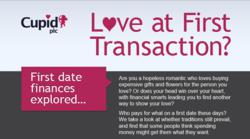 45 percent of men said they'd spend less if the date wasn't going well.
PALO ALTO, Calif. (PRWEB) November 08, 2012
According to Cupid plc [LSE AIM: CUP], traditions that dictate who spends the most on a first date are still alive and well. In a recent survey conducted by Cupid, the company found that while there is broad agreement that men should pick up the tab, there are stark differences regarding motivations for spending more or less than the norm. 74 percent of men and 50 percent of women think the guy should pay, although more women than men think it should be split equally, or based on who initiated the date.
Money talks. Or at least sends a signal.
When asked what would make them spend extra on a first date, 35 percent of men said they would do so to get their date into bed (only 12 percent of women said they viewed that as a smart strategy). Women have other reasons to splurge: 39 percent of them might spend a bit more to impress their date, while 24 percent would do so to avoid an awkward moment when the bill arrives. Meanwhile, 26 percent of men and 24 percent of women say they would minimize first-date spending to ensure the other person does not love them for their money.
Who's paying for what?
Women are three times more likely than men to report a taxi fare as their biggest first-date extravagance. However, women and men report similar numbers for three expensive date upgrades: champagne (14 percent men vs. 15 percent women); flowers (35 percent men vs. 40 percent women); and helicopter rides (5 percent men and women). Men generally pay for one first-date experience: 29 percent of men said a hotel room was their biggest first-date expense, whereas 17 percent of women had picked up that tab.
It's not you, it's the economy.
When asked what would cause them to minimize spending on a first date, 45 percent of men said they'd spend less if the date wasn't going well, and 23 percent of women said the economic downturn would curb their spending.
Luckily, some traditions persist
For most, money is not the most important aspect: 61 percent of men and 56 percent of women agree that there is too much emphasis on money during a first date. And, anyway, 90 percent of both sexes said that personality is more important than anything financial.
Survey methodology
Cupid, publisher of the world's most popular and fastest growing online dating communities recently surveyed 2,500 American men and women, members of its popular dating website, Cupid.com, and asked them several questions to gauge attitudes and motivations for splurging (or not) on that all-important first date:

Who do you think should pay on a first date?
How much money are you willing to spend on a first date?
What would make you spend more?
What's your biggest first-date extravagance?
What would make you spend as little as possible on a first date?
ABOUT CUPID PLC
Since its formation in 2005, Cupid has established itself as the global leader in online dating, with a base of more than 54 million members in 58 countries, and revenues of £53 million in 2011. Cupid plc was listed on AIM in June 2010 (LSE AIM:CUP). The company offers a wide variety of online dating services (traditional dating, casual dating, and niche dating) that appeal to dating users of diverse ages, cultures, and social interest groups. Visit Cupid on the Web at http://www.cupidplc.com, and follow us on facebook.com/cupidfanpage and Twitter@cupidplc.