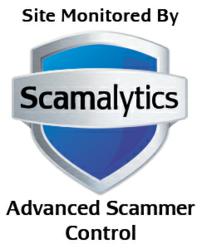 Scammers are the scourge of online dating, so we're clamping down hard on these parasites to make our online dating communities safe, fun and rewarding.
Palo Alto, Calif. (PRWEB) September 05, 2012
Cupid plc [LSE AIM: CUP], publisher of the world's most popular and fastest-growing online dating communities, is ratcheting up its robust anti-scammer measures by implementing state-of-the-art Scamalytics technology from RecSys Ltd. Scamalytics anti-scammer technology is already operating on Cupid's BeNaughty.com and GirlsDateForFree.com websites, with rollout planned on other Cupid plc sites such as Cupid.com, Flirt.com, BlackMatch.com within months.
The results to date have been impressive: Cupid's anti-scammer measures are now catching scammers 35 percent faster and scammer detection is up 10 percent. And, to stay ahead of a fast-moving game, Cupid can now quickly adapt its anti-scammer measures to evolving scammer techniques.
"Scammers are the scourge of online dating. Whether it be the classic small-time thief operating from an Internet café in Nigeria, or the legions of so-called cam girls looking to swindle people out of their money, we're clamping down hard on these parasites to make our online dating communities safe, fun and rewarding," said Sean Wood, communications director at Cupid plc. "RecSys' Scamalytics has consistently proven to be the most advanced available and, already, we're seeing excellent results by using sophisticated AI technology on the front line of this effort."
With more than 12 million members under surveillance by Scamalytics' automated scammer detection, Cupid has already seen a 10 percent decrease in 'front line' scammer activity. This, coupled with Cupid's existing Quality Assurance methods and members' own scam reporting activities, has meant 20,000 scammers are being identified and permanently blocked from Cupid's communities each month. In addition, any individual identified as a scammer is added to the Scamalytics master database, which is accessed by other online dating companies that use Scamalytics.
Mark Brooks, editor of Online Personals Watch and president of the Internet Dating Executive Alliance, sees the Scamalytics network alliance as an important step toward boosting the reputation and popularity of online dating and people discovery sites: "Scammer abuse is still the bane of the internet dating industry and so it's great to see Cupid, a discerning public company, working with Nick and his team to beat scammer abuse."
Scamalytics employs sophisticated algorithms to detect scammers by analyzing a user's login details, profile description, encrypted email and chat messages, and other key indicators of rogue activities. To identify potential troublemakers with a high degree of probability, technology also factors in the user's login location, IP address, profile photo, and behavior patterns typically used by scammers.
The Cupid-Scamalytics system also learns how scammers are trying to avoid detection in real time, so that changes in scammer behavior are instantly detected and reported. This means that scammers who change tactics or target users with new scams are picked up more often and faster. Additionally, the system can detect so-called "bots" often operated by organized crime gangs, which create profiles and engage real members in automated scripted conversations designed to elicit some form of payment.
Nick Tsinonis, managing director of Recsys Ltd, sees the partnership as an important step both for Cupid's brands and for the online dating industry: "Both our teams have worked hard to attain these important measures in the fight against scammers. However, we can't rest for long as the battle continually evolves. Our goal is to become the industry standard that unites the online dating industry to eliminate scammers from its communities."
Expert tips on how to identify and avoid scammers
1. Be wary of provocative images. Some scammers will post sexy pictures of girls and wait for responses, rather than be actively scamming on site. This will allow them to sit on the database for months until the right "victim" is found.
2. Military pictures should turn on your scam radar warning, too. Some of the biggest scams occur from supposed soldiers in the armed services with a believable sob story and a desperate need to "settle down."
3. Try and keep the conversation going on the dating site messaging system rather than being dragged off to Skype or MSN, at least initially. Also, employ some basic conversational tests:

If the person claims to be local, engage in a local-knowledge conversation (e.g. the weather, some nearby event, sports team, TV, or festival) and watch for mistakes.
If the person is not claiming to be local, consider why he or she would want a long-distance relationship. Is there good reason, such as some particularly unusual common ground? If not, why aren't they restricting themselves to people a bit nearer to their current location?
4. Look out for words like "dear" and old-fashioned romantic language, as well as badly formed sentences.
5. Never, ever send money to anyone on a dating site, and especially avoid wiring cash.
6. Always be on the lookout for get-rich-quick schemes. If it sounds too good to be true then it probably is a scam.
ABOUT CUPID PLC
Since its formation in 2005, Cupid has established itself as the global leader in online dating, with a base of more than 54 million members in 58 countries, and revenues of £53 million in 2011. Cupid plc was listed on AIM in June 2010 (LSE AIM:CUP). The company offers a wide variety of online dating services (traditional dating, casual dating, and niche dating) that appeal to dating users of diverse ages, cultures, and social interest groups. Visit Cupid on the Web at http://www.cupidplc.com, and follow us on facebook.com/cupidfanpage and Twitter@cupidplc.