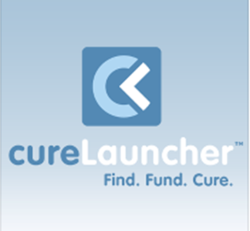 Changing the way the world fights disease.
Bloomfield Hills, MI (PRWEB) November 14, 2012
The fiscal cliff is calling for funding to the National Institutes of Health and the U.S. Food and Drug Administration to be cut by 8.2 percent each. This could be disastrous, was the message delivered by Jeanne Haggerty, director of federal relations for the Washington-based Biotechnology Industry Organization, in a session titled Federal Policy Update: What Now for Pharma?
Haggerty said the NIH cuts would total about $2.5 billion and eliminate 2,100 research grants, including 300 through the National Cancer Institute. If Congress doesn't act to avoid the cliff, it could drastically slow approval for new drugs and medical devices and eliminate billions in research grants.
"CureLauncher is changing the way the world fights disease", said Founder and President, Stephen Goldner, JD, RAC. "CureLauncher is the only crowdfunding platform dedicated to funding NIH-caliber drug and medical device research". CureLauncher.com creates a funding solution for medical treatments and provides easy access to clinical trials for anyone needing lifesaving medical treatments.
The featured project is a new metastatic breast cancer treatment from esteemed cancer researcher Dr. Lee Roy Morgan, CEO of DEKK-TEC, Inc. Each person who donates $25 or more to Dr. Morgan's research can write a personal and confidential email and receive Dr. Morgan's reply.
"We are working through the FDA to move this program forward as quickly as possible" said Dr. Morgan. "These donations will be used to make drug supplies for the next clinical trial and make a huge difference toward our goal of improving patients' lives".
"CureLauncher is truly a disruptive innovation", said Vice President, David Fuehrer. It is a transformative change in American medical funding and enables researchers to continue developing lifesaving new treatments. "As a two-time cancer survivor, I know how alone this disease can make people feel. Supporting each other and new treatments is the only way to win the fight against cancer".
Visit http://www.curelauncher.com to learn more about the research.
Find. Fund. Cure.
About CureLauncher
CureLauncher is the only crowdfunding platform dedicated to funding NIH-caliber drug and medical device research. It is an online community where people can find and fund medical research in a way never before possible. Advocates of the research interact with each other and leading medical professionals to generate support. CureLauncher puts funding back into drug and medical device research.