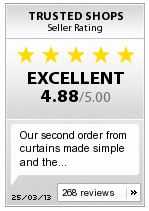 Trusted Shops give Curtains Made Simple its seal of approval!
(PRWEB UK) 28 March 2013
Specialising in made-to-measure home furnishing products such curtains, roman blinds, cushions, bean bags and throws, Curtains Made Simple has recently joined the list of over 10,000 accredited retailers to gain the seal of approval from the European Trustmark of online shopping, Trusted Shops.
Founded in 1999, Trusted Shops aims to raise trust and safety of online shopping for both buyers and retailers by offering a comprehensive service encompassing accreditation, seal of approval, buyer protection and customer service. In order to qualify for Trusted Shops accreditation, retailers are subjected to comprehensive security tests and must fulfil over 70 objective criteria that are continually being reviewed and developed by consumer protection specialists. Curtains Made Simple has of course passed this rigorous testing, gaining the Trusted Shops seal of approval.
Whilst the benefits for shoppers are obvious, online retailers such as Curtains Made Simple also reap huge rewards through gaining the trust of potential customers. Curtains Made Simple has observed how hard it is for small online businesses to establish themselves and build their reputation.
When starting Curtains Made Simple back in 2009, one of the biggest challenges was gaining the trust of customers prior to ordering, and proving ourselves as credible retailers. This is always the difficulty with shops that are solely internet based, as it often hard for customers to tell whether there is a credible operator behind a product from an online store.
Curtains Made Simple hopes that having the Trusted Shops Trustmark on their website will help alleviate the fears of potential buyers, and convince customers that Curtains Made Simple is a secure and trustworthy online retailer.
In addition to its accredited seal of approval, Trusted Shops also offers a shop rating service, where customers can rate different retailers across aspects such as reliability, delivery, goods and service, and leave a personal comment. Currently Curtains Made Simple has received over 200 individual ratings, and has an overall seller rating of 4.88/5 (Excellent).
One satisfied shopper stated, "I'm delighted with the curtains. The finish is excellent and they represent excellent value for money. Will definitely recommend to friends!"
Another wrote of Curtains Made Simple, "A very professional and caring company towards its customers. Takes responsibilities for any hiccups and curtains are stunning."
Curtains Made Simple has always relied on positive customer feedback and word-of-mouth recommendations to encourage new business, taking an active interest in monitoring comments from customers and running its own dedicated feedback section on its website. The online retailer therefore hopes that being an accredited Trusted Shops listing will lead to even more positive feedback, consequently encouraging new customers to choose Curtains Made Simple for their made-to-measure curtains, roman blinds and other soft furnishings.
About Curtains Made Simple:
Curtains Made Simple is a made to order soft furnishings company with easy to use online ordering for curtains, roman blinds, cut length fabric, cushions, pelmets, bedspreads / throws, duvets covers, bean bags, tablecloths, curtain valances and fabric samples.
Curtains Made Simple has over 7,000 fabrics to choose from including fabric from Cath Kidston, IKEA, Cabbages & Roses, Susie Watson, Kate Forman, Linens from Ada & Ina, Vanessa Arbuthnott, Clarke & Clarke and Prestigious Textiles.
Our aim is to provide the quality and personalised service of the high street with the prices of the internet.
To find out more please visit us at http://www.curtainsmadesimple.co.uk, email: info(at)curtainsmadesimple(dot)co.uk or call us on: +44 (0) 845 8620743