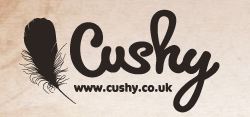 The online soft furnishing store!
supplier in England, has introduced a new offer through which users can save money on wholesale orders and even enjoy No-
Cushy, a leading luxury bedding Cost delivery on orders above £75.
Cushy is a dedicated online luxury bedding store that helps people find what they need for the perfect sleep at a reasonable price. Cushy brings luscious linens, duvets, alluring mattress toppers, pillows, and more, offering a one-stop shop for all the bedding needs.
The website has recently launched brand new synthetic filled duvets, and many more exciting offers.
Their latest offerings can be found on Cushy.co.uk.
Naturally-filled duvets are the ideal solution to the perfect sleep. Whether it be during a long lazy summer to colder nights where something more snug is needed, a good night's sleep is top of many people's lists of priorities. Understanding this, Cushy.co.uk have launched a new range of comfy duvets and are also offering No-Cost shipping on all orders above £75.
Cushy's Marketing Director said: "Luxury bed linens are used by everyone in today's world, and are not just limited in five-star hotels. Online shopping has gained a lot of momentum and people want to save on everything that they buy. This is why Cushy are offering some great deals as well as No-Cost shipping."
All of the products are sourced from trusted suppliers and made to the highest quality standards, without compromising on the comfort. Each product is tested for quality and then shipped to customers.
Commenting further on their quality standards, the Marketing Director for Cushy said – "The luxury bedding brings you all the comfort that most would expect from a quality brand, at an irresistible price. Moreover, Cushy has great deals, such as extra savings on bulk orders and No-Cost delivery when a £75 or higher order is placed .The website provides fantastic quality products, at a great price."
Placing an order is fairly simple and items are shipped within 7 working days. Customers can cancel the order and get complete refund when there is a valid case to do so. Cushy has formed a new fuss-fre returns policy with customers in mind, and registered members can get easy access to their current order status, and order history.
Customers can now take special advantage when making bulk orders on the site's wide range of quality table linen, kitchen, and bedding available with excellent discount deals.
Cushy invites everyone to take a look at their newly launched down duvets and duck feather, along with host of other products listed on their store.
About the Company
Cushy stocks natural and synthetic filled duvets, memory foam pillows, mattresses, and luxury bed linen, including Egyptian cotton sheets. In addition, it supplies kitchen, table linen, and bath for wholesale order and all items meet the approved quality inspection.
Cushy has become the premier source of luxury bedding, mattresses for health clubs, B7B, hotels, universities, spas, restaurants, and interior design businesses over the years.
To know more about the products offered by the company, log on to http://www.cushyliving.co.uk