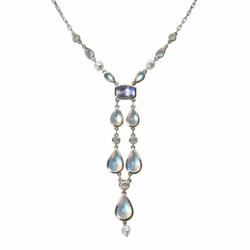 San Francisco, CA (PRWEB) March 05, 2013
Bay Area jeweler, Union Street Goldsmith, is excited to announce that they are now carrying new designer Elyria jewels. The new line will add to Union Street's already stunning collection of custom jewelry. Elyria has made a name for themselves by creating fine pieces using rare and unusual Tahitian pearls.
Elyria's new Djuna collection uses a range of materials from rough black diamond slabs to large South Sea keshi pearls in very stylish and wearable pieces. These precious stones are set in gorgeous contemporary designs of white gold, sterling silver and black rhodium. The style is described as industrial yet bohemian, and is defined by blackened metal, moonstones, and tiny diamond scatters.
The designer's work was inspired by influences as diverse as tribal adornment and vintage Cartier. These new additions range in price from $750 to $24,000 and are available now at Union Street. For a look at the Djuna collection please visit: http://www.elyriajewels.com/.
About the company:
Glenda Queen, with a background in arts and crafts, entered the jewelry business in 1964. After eleven years making jewelry at McLeans in Sausalito, she and her present partner Terry Brumbaugh, opened Union Street Goldsmith. Glenda chose a neighborhood she hoped would be a comfortable setting for her craftsmen as well as her clients and it worked. Terry Brumbaugh, raised in the jewelry business, later became a Gemologist. After an extensive period of travel, he joined with Glenda to head up the Union Street Goldsmith sales staff. Terry has a rare gift for his memory of client's collections, enabling him to design new pieces to fit his clients' special tastes and their collections. An excellent sense of style and fashion endows Terry with the ability to give valuable guidance to his clients in their jewelry selection, helping each one to create an overall special look within their collection.