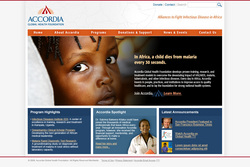 Infectious diseases such as HIV/AIDS, malaria, and tuberculosis are the leading cause of death in Africa today
Chantilly, VA (PRWEB) December 24, 2008
ImageWorks Studio, a Virginia-based website design company is proud to announce the launch of a new website for Accordia Global Health Foundation at http://www.accordiafoundation.org. The site has been redesigned to reflect the organization's growing mandate to build Africa's capacity to fight infectious diseases through training, research, care and prevention.
The redesigned website features:
Accordia Spotlight- a page which features personal stories and perspectives from those working in the field
Accordia Voices - a blog created to promote discussion among Accordia's friends and supporters around critical capacity building topics
Improved access to News & Events items including The Alliance Newsletter, Annual Reports and the latest Accordia headlines
"Infectious diseases such as HIV/AIDS, malaria, and tuberculosis are the leading cause of death in Africa today," comments Scott Margenau, President of ImageWorks Studio. "We are honored to work with Accordia Global Health Foundation as they bring resources together to develop the skills and infrastructure in Africa that are necessary not only to fight this epidemic, but also to lay the foundation for future infectious disease crisis," says Margenau.
Accordia's mission cannot be accomplished without financial support. Visit [Accordia's online donation page] to contribute to this vital cause.
About ImageWorks Studio:
ImageWorks Studio of Chantilly, VA offers custom web design & marketing to small and medium enterprises across the globe, since 1995. The company offers branding strategies and a full range of marketing services. Visit the company's website at http://www.imageworksstudio.com.
###