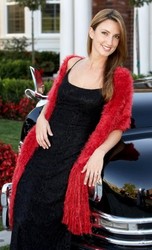 A handcrafted gift is one which can be passed down through generations and appreciated by everyone.
Laguna Niguel, CA (PRWEB) November 20, 2007
Looking for those perfect holiday gift ideas? Then look no further than Bettina Knits. Specializing in unique holiday gift ideas with beautiful winter scarves, custom knit shawls, stoles, wraps, and throws, Bettina Knits has tapped into a growing fashion trend - high end knit apparel. Purchase any item on the website, Bettina Knits.com and use the coupon code "bk74vmln" to receive a 10% discount.
Holiday gift shopping can be as easy as a mouse click away and doesn't need to be the dreaded chore put off until the week before. No need to second guess if the receiver will like the item or wonder if they already have said gift. Founder of Bettina Knits, Bettina Rogers, offers some fashion advice on gift giving, "Perpetuate the excitement of coming holiday festivities by enhancing their wardrobe. Any outfit can be accentuated with a scarf infused with vibrant color, or choose stunning neutrals for tone on tone class."
According to fashion trends writer, Pauline Weston Thomas, "As consumers search for ever new novelty and better quality in products they feel they deserve, there is clearly a trend for high end yarns and fabrics… The new fashion trend is for thicker looking winter knits, but which are lighter in weight than traditional chunky winter fabrics."
With winter fast approaching, custom knit shawls and beautiful winter scarves are a welcome addition to the stylish woman's wardrobe. Rogers' philosophy on fashion is, "If you coordinate your wardrobe with purpose, and when you dress for the day or evening with confidence, you will become more empowered in your endeavors. Bettina Knits are the ideal wardrobe accessory for the casual Mom, the executive woman, and the woman 'dressed to the nines' for an elegant evening out on the town."
Handmade and hand crafted gifts are always popular. An article on Info Boulevard says, "A handcrafted gift is one which can be passed down through generations and appreciated by everyone." Hand crafted in the United States from impeccable quality European yarns, Bettina Knits are versatile, classic, and timeless.
For beautiful, unique holiday gift ideas, go to Bettina Knits.com. Sign up for their complimentary special promotions email list or use the coupon code "bk74vmln" to receive a 10% discount on all website purchases.
About Bettina Knits/Bettina Rogers:
Bettina was born in New York and raised in suburban New Jersey, and attributes her passion for design and style to her mother. Bettina grew up watching her pick out patterns and fabrics to design her own clothes, usually eveningwear. Her mother's parents had owned fine men's and women's clothing stores in the 1940's through the 1960's on the boardwalk in Atlantic City, Philadelphia, and Miami Beach.
Bettina Knits was born after many years of learning the art of knitting, while raising her two children. Her desire to have a career and to be home with family led her to pursue her absolute passion for knitting and create a business with the freedom of her own hours and earning power. The explosion of fashion scarves, wraps, and stoles wonderfully corresponded with her growing expertise in creating an unparalleled look of glamour and elegance.
###