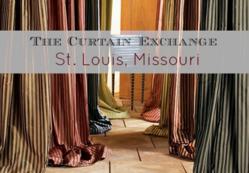 We are so happy to be able to further promote this project through our event
St. Louis, MO (PRWEB) March 23, 2013
The Curtain Exchange, a custom drapery and designer curtain retailer in St. Louis, Missouri, will present the Chocolate, Cocktails and Creativity: How to Achieve Major Success Without Major Stress event on April 10, 2013 at the store's location: 8119 Maryland Avenue in Clayton. The event begins at 6:30 p.m., and will feature a discussion panel of three women who have achieved success in their fields—Brooke Pratt, owner of Sucre Shop; Jill Crane, an event planner at Simcha's; and Joni Spears, an interior designer. The event will also feature a question and answer session and a live auction featuring spoon paddles from Sucre Shop. Half of the proceeds from the auction will go to local dog shelters in the name of The Curtain Exchange's philanthropy project, Padding for Paws. Attendance is free, and all attendees will receive a gift bag and a $150 gift certificate to The Curtain Exchange.
Organized by The Curtain Exchange, Padding for Paws supports shelters and rescue organizations by donating cuts of interlining, a fleecy cotton material used in the manufacture and creation of curtains and window coverings. "We are so happy to be able to further promote this project through our event," says The Curtain Exchange of Nashville owner Ellen Ross. "It is such a worthy cause and one that we feel strongly about." For more information about this event, please visit The Curtain Exchange of St. Louis on Facebook.
The Curtain Exchange offers custom luxury drapes and ready-to-buy designer drapery and window treatments in St. Louis, Missouri. In addition to a constantly updated line of fabrics that may be selected from to create custom draperies, The Curtain Exchange also carries a distinctive selection of ready-to-buy curtain styles and offers drapery hardware and installation. The store's in-house consultants are happy to work with guests in-store or at home, and customers are encouraged to take advantage of The Curtain Exchange's 48 hour take home approval process. All of The Curtain Exchange's draperies are made in the USA. For more information or to schedule an in-home consultation, please visit http://www.thecurtainexchange.com.