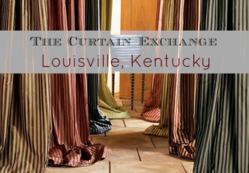 Louisville, KY (PRWEB) March 08, 2013
The Curtain Exchange, a designer drapery retailer in Louisville, Kentucky will be hosting the Peacock Alley Bedding Trunk Show on Thursday, March 21 from 1-7 pm at The Vogue Center in St. Matthews. The trunk show offers guests the opportunity to meet Peacock Alley luxury bedding specialist Brad Cleveland, as well as the chance to see the latest bedding designs and styles from Peacock Alley.
This event is the perfect opportunity for guests to prepare for upcoming events like the Kentucky Derby, Bluegrass Stakes, graduations, and Easter Sunday that may bring in guests from out of town. Those interested in the event may wish to subscribe to the luxury curtain store's email list for possible offers that will only be available through The Curtain Exchange. The event will also be a good opportunity for new customers to become acquainted with the designer window treatment retailer. "We're very excited about teaming up with Peacock Alley for this event," says the Louisville store owner Amanda Tyler. "We think our designer curtain showroom is a great venue for their designer bedding event."
Peacock Alley creates luxury bed and bath lines that appeal to stylish consumers. The luxury designer bedding outfitter was founded in 1973 by Mary Ella Gabler and features a classic but indulgent style in each piece. Peacock Alley caters to a sophisticated audience of shoppers, whom they assist in infusing a personal, individualized style into the designer bedding, pillows, throws, and bath linens that they carry.
The Curtain Exchange offers custom luxury drapes and ready-made designer drapery and window treatments in Louisville, Kentucky. In addition to a constantly updated line of fabrics that may be selected from to create custom draperies, The Curtain Exchange also carries a distinctive selection of ready-made curtain styles and offers drapery hardware and installation. The store's in-house consultants are happy to work with guests in-store or at home, and customers are encouraged to take advantage of The Curtain Exchange's 48 hour take home approval process. All of The Curtain Exchange's draperies are made in the USA. For more information or to schedule an in-home consultation, please visit The Curtain Exchange.