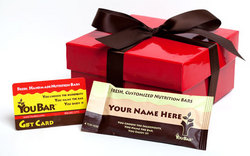 You Bar offers fresh, custom energy bars that don't just let you name the bar for that favorite person, but also let you choose all the ingredients so that it's absolutely perfect for their tastes and dietary needs.
Los Angeles, CA (PRWEB) November 3, 2010
Every year, Americans get so many unwanted gifts that over half admit to having given away Christmas presents before ever opening them. This year, the choices for customized gifts tailored for recipients have expanded significantly. Gift givers can start with the categories below and personalize from there.
1. Best for Athletes – YouBar's Fresh, Custom Energy Bars. Active, health conscious people love nothing more than healthy, portable snacks. Personalize one especially for a on-the-go person who needs to recharge without slowing down. YouBar offers fresh, custom energy bars that don't just let the customer name the bar for that favorite person, but also let them choose all the ingredients so that it's absolutely perfect for specific tastes and dietary needs. For those not exactly sure about the latest trendy diet, the selection of a gift certificate so the recipient can design their own perfect energy bar is the answer. Now that's energy-packed love! (38.87 for a box (13) of customized energy bars; http://www.youbars.com)
2. Best for Technocrats – Personalized iPhone Cover from Case-Mate. Perfect for someone who never puts down his or her iPhone. You can make sure they're always looking at something you both love by designing a custom case for the must-have gadget . With personalization, the must-have gadget becomes differentiated from the crowd and becomes a much-viewed "framed" picture. At Case-Mate.com, gift givers simply upload a favorite picture and Case-Mate turns it into a beautiful hard cover case. Awesome. ($39.99; custom.case-mate.com/diy)
3. Best for the Traveler – Monogrammed Umbrella. Worldly travelers almost always already have an abundant supply of many gift staples like luggage tags, travel journals and passport covers. A personalized umbrella is an unusual idea for the traveler, and something he or she will really use. Design-savvy Horchow gives that imperative accessory an enviable touch by allowing a beautifully cursive first initial. Tres chic. ($30; http://www.horchow.com)
4. Best for Grandmothers (and Grandkids!) -- "The Grandmother Book" Kids adore their grandmothers and absolutely love hearing all about them, especially the fact that they were once children too! Great book whether it is read to the child by Granny, Mom or Dad. "The Grandmother Book" allows grandma to tell her story with family photographs and favorite expressions. ($18.99; http://www.thegrandmotherbook.net)
5. Best for the Classically Stylish – Engraved Silver Christmas Ornament . For the classically stylish, heartfelt simplicity can sometimes be the best way to mark the holidays. The Sterling Silver Company is selling a beautifully simple silver-plated bell Christmas ornament crafted by Reed and Barton, with nothing on it except whatever the gift-giver chooses to engrave. ($35 including engraving; http://www.silvergallery.com)
About YouBar
YouBar makes fresh,customized energy bars, protein shakes, trail mixes, cereals and cookies. At You Bar, we use only the freshest all-natural ingredients. We personally source all our ingredients to ensure that they are preservative-free and provide maximum flavor and nutritional benefit.
Editor's Note: You Bar product samples and photos are available on request.
###