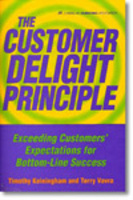 New York, NY (PRWEB) May 15, 2008
Tune in to a free customer satisfaction webinar with leading customer satisfaction and retention expert, Terry Vavra on Wednesday, May 28. In this free 30 minute customer satisfaction webinar, learn how to improve sales through customer feedback even in the toughest of times.
Terry Vavra will discuss his book, The Customer Delight Principle. He will reveal how many retailers have set up customer experience programs resulting in positive change in as little as three months by measuring and improving through customer feedback.
Terry Vavra is a world-acknowledged expert in customer satisfaction and retention strategy. In addition to The Customer Delight Principle, he is also the author of Loyalty Myths and Customer Satisfaction Measurement Simplified. Terry works at ICC/Decision Services to develop world class customer satisfaction programs with many of its clients.
WHO: Terry Vavra will lead the free program. Everyone is invited.
WHEN: Wed, May 28, 11:00 ? 11:30 AM EDT
WHERE: To register, go to: https://www1.gotomeeting.com/register/153607261
ICC/Decision Services was founded in 1979 to design and execute Customer Experience Management programs. ICC/Decision Services offers a wide range of qualitative and quantitative business tools, including mystery shopping, customer feedback and employee satisfaction surveys. The company is headquartered at 45 West 21st Street, New York, NY 10010, U.S.A. Phone: (800) 444-1717. E-mail: info @ iccds.com. More information is available at http://www.iccds.com .
###