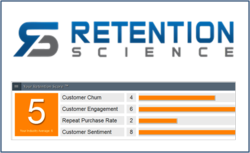 We emphasize Retention Automation. Our science goes beyond the pretty charts and tells businesses exactly what to do with their customers to maximize their customer retention and customer lifetime value.
Santa Monica, CA (PRWEB) February 21, 2013
Every business faces a challenge with customer retention and many marketers have expressed the need for a simple process and metric that can quickly give them insight into their customer retention.
That's where the Retention Score comes in. Dubbed the "Klout Score of E-Commerce Customer Retention", the Retention Score gives online stores a simple view of a comprehensive assessment of their customer retention. Furthermore, e-tailers can implement actionable retention campaigns to re-engage customers at the individual level.
CUSTOMER RETENTION - GET YOUR SCORE
Businesses can register for access to their Retention Score at http://www.retentionscience.com/score/. (Even simpler, Magento stores can download and install the Retention Score extension in minutes on Magento Connect.)
Retention Science analyzes 4 crucial metrics; namely customer churn, customer engagement, customer sentiment, and repeat purchase rate. Marrying the store's historical data with its own proprietary data layer, Retention Science applies its predictive technology to crunch the numbers and calculate an overall Retention Score. In addition, Retention Science provides an industry average score to help businesses understand how they are doing compared to industry peers.
RETENTION AUTOMATION- TURN ANALYTICS INTO ACTIONS
The Retention Score is great for businesses that wish to get a sense of how well they are doing with customer retention, but that's just the starting point. Retention Science leverages this analysis and its Retention Automation Platform to recommend individually-tailored retention campaigns. Businesses can choose to run these campaigns with a simple click of a button. Retention Science algorithms improve over time, and enable businesses to track and predict when their customers are likely to churn or unsubscribe, thus giving businesses the intelligence to proactively retain customers.
According to Retention Science data scientist Dan Feldman, "The Retention Score is computed from key metrics that measure customer retention throughout the entire life cycle of the customer. We simplify a great deal of complex calculations and predictive modeling into one simple score, which provides concrete means for businesses to monitor and improve their customer retention."
CUSTOMER RETENTION vs. ACQUISITION
Many businesses today continue to pour their budgets on user acquisition despite facts that show existing customers actually spend 33% more than new ones. Additionally, studies show that customer retention costs much less than acquisition (i.e. many businesses spend up to 25% of their revenue on Google AdWords to acquire new customers). E-Commerce heavyweights such as Groupon, Amazon and other successful online businesses know this quite well and have repeatedly emphasized how important repeat customers are to their long-term business profitability.
Few services in the market focus on helping businesses retain their customers. Retention Science fills this void by giving businesses concrete action plans that are derived directly from applying predictive science to the store's data. The company's ultimate goal is simple – to help businesses ensure existing customers remain engaged and continue buying.
"We're excited about the release of the Retention Score," mentioned CEO Jerry Jao. He added, "We emphasize Retention Automation. Our science goes beyond the pretty charts and tells businesses exactly what to do with their customers to maximize their customer retention and customer lifetime value."
ABOUT RETENTION SCIENCE
Retention Science is the first Retention Automation Platform that turns Big Data analytics and predictive algorithms into actionable retention marketing campaigns. Its Customer Profiling Engine analyzes the customer lifecycle and optimizes the time periods to re-engage customers with individually-tailored offers. Based in Santa Monica, Retention Science is named a Top 10 Software Company in Southern California.
Learn more at: http://www.retentionscience.com/.