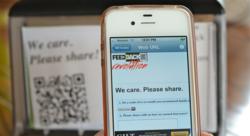 Yelp really is a disservice to businesses. The comments are frequently from social vigilantes that are not providing reliable information.
(PRWEB) March 19, 2012
Food Networks new series "Restaurant Stakeout" features cameras that allow them to see and hear everything that the employees and customers say and do. It's a great concept, its candid camera for a restaurant owner. It's entertaining to see how little the restaurant owners know. "Feedback Revolution QR provides businesses the ability to know what customers are thinking and saying immediately without all of the expensive surveillance equipment," said Martin Baird, Chief Feedback Officer of South Office, LLC.
Baird said, "The show is a great idea. It shows how much business owners don't know about what is happening in their businesses. The problem is only a few businesses will ever have the opportunity to be selected for the show."
On the Food Networks web site it mentions that the show is, "…looking to find and rectify the hidden problems that lie within their establishments." Baird commented, "The problems are not hidden if the business has the tools in place for customers to easily provide real time customer feedback. Customers will be happy to share their thoughts and impressions if it's easy and accessible."
"In the most recent episode, "Party All The Time", it shows customers waiting over 16 minutes to have their order taken. If they had our Feedback Revolution QR in place that customer could have shared their experience in real time and the owner would have gotten an immediate notification about the service problem," Baird shared.
Feedback Revolution QR is a free customer feedback platform that uses advanced technology to allow businesses to collect and analyze real time customer feedback. It's ideal for restaurants, retailers and any businesses that really care about their customers and want to get a leg up on the competition.
"The ironic part for me is on Yelp the review of the featured restaurant says, 'Great service, great food, great drinks.' that review doesn't match what the TV show shared. Yelp really does businesses a disservice. The comments are frequently from social vigilantes that are not providing reliable information," Baird continued.
Businesses need to have a way to know what their customers are experiencing in real time. High tech surveillance is no more the answer than are comment cards. Feedback Revolution QR makes it as easy as See it… Scan it… Share.
About Feedback Revolution QR
Feedback Revolution QR is a FREE service and uses advanced customer feedback technology to give businesses a leg up when it comes to collecting and analyzing customer feedback. By making it fast and easy customers share their feedback directly with the business. This customer relationship management platform helps clients grow in these tough economic times. http://www.feedbackrevolutionQR.com