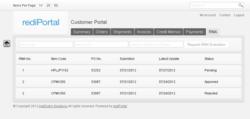 rediPortal has significantly improved our productivity, efficiency and customer service processes.

-Jackie Aguilar
Customer Service Manager, NuCare
Irvine, CA (PRWEB) August 28, 2012
IndyDutch Solutions, an SAP Business One consulting and software development organization, recently announced new RMA functionality for rediPortal, which allows customers to submit RMA requests directly from the customer portal. A full demo of rediPortal is available at http://www.rediportal.com/demo. rediPortal's new features give SAP Business One users the opportunity to provide their customers a fully integrated RMA solution, bringing convenience to the returns process.
rediPortal's RMA module allows customers to submit product return requests, referencing any past invoice or purchase order, with the ability to include items from multiple invoices under a single RMA request. In addition, rediPortal allows customers to provide specific reasons for their return request as well as submit photos when necessary. All return requests are integrated into the SAP Business One system, ensuring accurate data with real-time visibility.
rediPortal- New Dashboard
The new dashboard for rediPortal helps SAP Business One users better manage their business with access to a comprehensive summary of their customer portal, displaying information regarding open orders, shipments, invoices, credit memos, payments and RMA requests.
rediPortal- Customer Service Benefits
rediPortal alleviates work from any customer service department, reducing daily emails and phone calls requesting basic information found in SAP Business One systems. The self service customer portal saves time for customer service departments and customers by providing access to account history information around the clock.
rediPortal- Account History
Through a secure customer login, customers are able to access all of the data related to their account, such as order status, shipment information, invoices, payments, credit memos, account summaries, and RMAs including an option to print PDF copies of their documents just as they appear in the SAP Business One system.
For more information about rediPortal, call IndyDutch solutions at 1 (800) 385-5814 or visit us at http://www.rediportal.com
About IndyDutch Solutions
IndyDutch Solutions improves and expedites small business processes by specializing in software consulting and software development for SAP Business One systems. The IndyDutch Solutions team has been working with SAP Business One software since the time it was launched. IndyDutch specializes in SAP Business One implementation and optimization, offers several Add-On Solutions for SAP Business One, and is well-known for their honesty, integrity, and commitment to delivering value in the SAP Business One customer community.
To learn more about IndyDutch, visit http://www.indydutch.com
SAP Business One™ is a trademark of SAP AG. IndyDutch Solutions and IndyDutch products are not endorsed by or affiliated with SAP AG.