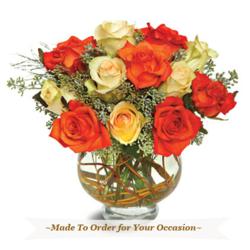 EZBloomers.com recently provided their high-quality floral arrangement designs for a red carpet event held in Hollywood
Indialantic, FL (PRWEB) December 08, 2011
Online floral arrangement company EZBloomers.com recently was asked to provide their high-quality floral arrangement designs for red carpet event held in Hollywood, California on Thursday December 1, 2011 at Geisha House.
The party was thrown by Flawless Life: The Business of Play and had the following celebrities to host the red carpet event: Susan Blackmon (founder of the Flawless Life), Ryan McTavish (recently on the T.V. show, Criminal Minds) and Nadine Velazquez (currently on the Hart of Dixie) celebrating this birthday extravaganza.
Dinner was provided (private and prefixed) as well as cocktails, 200 luxury gift bags were given away and internationally Famous DJ's and artists rocked the House until 2 a.m. Red carpet photos were also offered during the start of the evening to kick off the trifecta event.
DJ performances were provided by Taxi Doll, Jarvis, DW, Leonardo, DJ Luciano Palacios & DZ, Pure Etc. Peak Performance Music and Rae.
EZBlomers.com, a new custom flower delivery website, sponsoring the event, was able to show off their custom flower designs as well as spread the word about their unique business model. The online floral arrangement company supplied all of the flowers including centerpieces at each table.
"We were delighted to be asked to provide all of the floral arrangements for this event," said Kimba Vasquez, Chief Executive Officer of EZBloomers LLC. "We hope to be a part of many more Flawless life celebrations in the future."
Other sponsors included: OneMama.org, Tropicana Las Vegas, Crow Watches, Heaven Organic, Miki Hair Products, Circuit Pilates, Cheetz, De'Leon's Heavenly Hands, Picture Car Warehouse, Atori The Satori Sound, and many others.
To become a fan of EZBloomers.com's Facebook page and learn more about their current contest and promotions, and communicate with other fans, please "like" them today at http://www.facebook.com/ezbloomers and/or follow them on Twitter at http://twitter.com/ezbloomers.
About EZBloomers.com: One of the leading online resources working to link top local florists with consumers, EZBloomers.com (http://www.ezbloomers.com/) offers custom floral arrangements without the high-priced service fees that have monopolized the online floral industry. No service fees allow the total amount to go towards what their customers order, allowing for a better quality product and ultimately the best value.
###