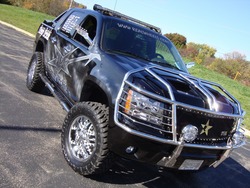 We're thrilled to be working with Cheap Trick this year
Gurnee, IL (Vocus) December 31, 2008
The ability to successfully connect two seemingly unrelated products is known as cross-promotion. For the past five years, the team at automotive accessory manufacturer RealWheels Corporation (RWC) has been creating some of the coolest themed vehicles in the nation. Their unique vehicle concepts and unusual partnering are exactly what has kept their company, and accessory products growing in popularity. So, in a year when not many in the automotive accessory business are celebrating, RWC once again successfully created a party-like atmosphere at the automotive industry's huge SEMA (Specialty Equipment Market Association) event in Las Vegas, bringing attention to their innovative vehicle concepts, high-end products, and even some legendary Rock & Roll.
''Most anyone can build a cool car,'' explains RWC Vice President of Marketing, Jhan R. Dolphin. "The challenge is to create a complete marketing campaign around the vehicle's design." Dolphin, whose out-of-the-box marketing concepts were described by AutoWeek magazine as "A new era in cross-promotion", has re-written the book on how a vehicle can be used to promote a business, product, charity, or most any organization. In 2003, they built a Hummer that rolled on tank treads instead of wheels. Since then, they have modified everything from the tiny Smart Car to enormous big rig trucks. They created the Mindfreak Hummer for award-winning Illusionist Criss Angel's A&E television series. That creation boasted close to $400,000 in wild, one-of-a-kind features, hidden illusions and aftermarket performance goodies. The Mindfreak vehicle, along with their other drivable creations have graced the covers of dozens of magazines, have been featured on television, displayed at huge automotive events, and of course, have been plastered all over the Internet.
This year, when many in automotive-related categories have abandoned any innovative or risky marketing ideas, they pushed ahead with another wild marketing theme. The RWC team shifted from Magic to Music, by creating a Rock themed vehicle with the help of one of America's legendary rock bands, Cheap Trick. Also hailing from northern Illinois, Cheap Trick has been blending elements of pop, punk, and even metal music in a way that is instantly catchy and recognizable. With timeless classics like ''Surrender'', ''Dream Police'', and 80s hit ''The Flame'' Cheap Trick is an institution. In fact, the vehicle was created as a tribute to the band's 30th Anniversary of their Dream Police album, complete with a laser-light and music show that emerges from the rear of the vehicle, along with the mega-popular video game, Rock Band 2. "We're thrilled to be working with Cheap Trick this year," says Dolphin. "They're great guys, and their music is even featured in the opening menu of the video game." The modified Chevy includes special details relating to the band's history that fans will quickly notice, and many one-of-a-kind accessories.
So, how does a small, family-owned company in the Midwest get to work with famous Magicians, Celebrities, and Rock Stars? ''We call them on the phone,'' says Dolphin, laughing. "Fortunately, we've established a reputation for creating vehicle projects that can attract large audiences, making it much easier to attract valuable sponsors, media attention and of course those celebrity phone numbers." Even during these challenging times, America's love affair with the automobile, especially something custom and entertaining, remains a strong marketing tool for attracting attention. The RealWheels team has a thorough understanding of this concept, as does the enormous demographic interested in customized vehicles. They are now attracting project vehicle partnerships from a variety of industries.
The Dream Police project is scheduled for appearances around the country during the next 12-18 months. Last week the project team joined the band at a sold-out concert in Illinois, and next they take the vehicle back to Vegas for the CES (Consumer Electronics Show) show in January. With a reputation for unusual themes that result in award-winning projects, this small company has figured out, at least one way to combat the economic blues.
# # #