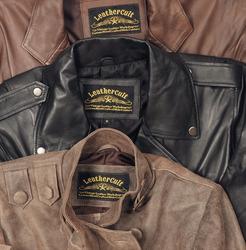 If you have ever had to buy jeans that you've had to hem as soon as you got home, or are frustrated that the jeans you buy in retail stores always end up too short, MakeYourOwnJeans is the perfect place for you to find custom clothing at fair prices
New York, NY (PRWEB) August 23, 2010
MakeYourOwnJeans.com, the online retailer providing customers with tailor-made jeans at low prices, has announced the addition of custom-made leather jeans and jackets to its line of products.
As the only place to get jeans specially made for individuals of all sizes, MakeYourOwnJeans features pants, shirts and jackets in over 20 different styles. The company has been featured in O Magazine and InStyle as a unique place to find top-quality custom apparel.
"If you have ever had to buy jeans that you've had to hem as soon as you got home, or are frustrated that the jeans you buy in retail stores always end up too short, MakeYourOwnJeans is the perfect place for you to find custom clothing at fair prices," said Harry Shahari, CEO. "No longer will you have to spend hours on shopping trips, hoping to find jeans, shirts and jackets that fit just right."
MakeYourOwnJeans offers top-quality jeans, corduroy, skinny jeans, cargo jeans and suits starting at $45. The company also features "clone a jean," which allows customers to re-order their favorite pair of jeans, assuring that they will be just as comfortable and in the style they desire. To do so, customers can send their items to the company's New York courier partners and the company will ship them to its Mumbai factory at no cost.
With its latest offering of "LeatherCult" leather jeans and jackets, MakeYourOwnJeans customers now have access to a whole new style at affordable prices. After just a few simple measurements, customers can have their custom orders shipped directly to their homes.
"For those who like to wear leather, it's particularly important to find apparel that fits perfectly for the right comfort and style," Shahari said. "We are proud to add another product to our ever-expanding line of services."
In an effort to ensure customer satisfaction, MakeYourOwnJeans will even mail samples to customers which includes more than 30 colors of leather swatches, allowing them to choose jeans that not only fit their waist, but also their personality.
For more information, visit http://www.MakeYourOwnJeans.com
# # #