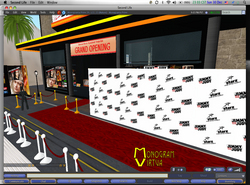 Jimmy and Judy is the most beautifully messed-up homage to love and devotion I have witnessed.
(PRWEB) January 3, 2008
Santa Monica, CA -- Inside Second Life, Monogram Virtua Entertainment is proud to celebrate Starz Home Entertainment's DVD launch of the adrenaline-pumped, award winning, wild ride - Jimmy and Judy - available for home rental and purchase on January 2, 2008. The film stars Edward Furlong, AJ Buckley and William Sadler, and will have its 3D cyber world premier at the red carpet grand opening of the Monogram Virtua's Flagship Movie Theater in Second Life on January 3, 2008 (SLURL:http://slurl.com/secondlife/Monogramia%20Prime/10/81/22). This will be a special showing with a limited number of press passes available, and there will by Q&A immediately following with producer/writer/director Randall K. Rubin (SL Name: Dubble Rokocoko), fellow filmmaker Jon Schroder and actor AJ Buckley. (Contact press @ monogramvirtua.com for access and passes.) Buckley is well known for his role as Adam Ross on CSI:NY with Gary Sinise. The Second Life Episode laden episode "Down The Rabbit Hole" featured Buckley in a starring role as the lab technician responsible for guiding CSI detectives through Second Life as they chased down a cyber world killer.
The screening of Jimmy and Judy will be the first 3D fully interactive cyber world showing of a Starz Home Entertainment title. Second Life became an obvious choice as Monogram Virtua Entertainment, co-founded by Jimmy and Judy producer/writer/director Randall K. Rubin and new technology entertainment expert Harold Whaley of Urban Network Magazine, had already been heavily invested in building and design work on a film and music themed island on the platform. When the CSI:NY episode featuring Buckley aired to over 16 million viewers this past fall, Rubin called Buckley, who are close friends and have worked on a number of projects together. While conversing about the success of "Rabbit Hole" and the Internet activity it had generated for Buckley, Whaley (SL Name: Hdub Shepherd) suggested the idea of an in world premiere featuring Buckley as a guest host and panelist for a post screening Q&A. Whaley and Rubin approached Second Life, Starz, and Jimmy and Judy worldwide distributor Outsider Pictures, to quickly put things in motion.
Monogram Virtua is running point on the screening with the support of Starz, which controls the U.S. Internet and Home Video rights to the film, Second Life, Outsider, Internet Publicity company Total Assault and multimedia web solutions company Streamreel.com, which is working with Starz and Monogram Virtua to host the technology. The event is designed to give visitors a real life interactive experience meant to mimic a true theatrical interpersonal experience over the web. Filmgoers will be watching the film together and, through Second Life's spatial voice chat function, will be able to hear each other react to the film and participate in the post screening Q&A in a way unlike a 2D Internet video on demand model can achieve. This unique format allows visitors from all over the globe to interact with each other while they are entertained, all without having to leave the comfort of their own armchair.
Additional Second Life contributors, all known by their Second Life names, include cyber world consultant Hiliary Grant, builder and property manager v00 Ceres and builder Hope Bunour of Kallisto Estates, marketing and sales advisor Anakalia Cattenea, and Monogram staffer Keyshia Renard, who were all instrumental in putting the screening together.
About The Film:
A cross between Natural Born Killers and Blair Witch Project, Jimmy and Judy reviewers have marked the indie flick as one destined to become a cult classic. Full of shocking and oftentimes uncomfortable material, the movie made a splash at film festivals for its raw and brave subject matter that all boils down to two kids who are crazy about each other, played by real-life husband and wife, Edward Furlong (CSI NY, Terminator 2: Judgment Day) and Rachael Bella (The Ring). Jimmy and Judy was co-written, co-directed and co-produced by both Randall K. Rubin and Jon Schroder and produced by Ed Sanders (Dirt Merchant, Role of a Lifetime) and Gregory Scanlan (Going Greek, Role of a Lifetime). Available for $26.97, the DVD will offer great bonus features including deleted and extended scenes, unrated and rated trailers, and audio commentary with Rubin, Schroder and cinematographer Ben Kufrin.
Jimmy and Judy has won multiple awards including Best Feature at the San Francisco Independent Film Festival, and the Myspace.com Award at the Newport Beach Film Festival. Critics also have great things to say about the film. The Daily Californian said, "In a word, [Jimmy and Judy] is ballsy. Not many indie films making claims for edginess have pulled off this sort of material with such honesty," and also said, "a cogent plot, raw, fearless script, and superb casting." Skratch Magazine also said, "Jimmy and Judy is the most beautifully messed-up homage to love and devotion I have witnessed."
The ultimate teen road movie, Jimmy and Judy follows a pair of renegade outsiders as they travel across an American landscape dotted with hypocrisy, materialism, drugs and violence. A modern day Bonnie & Clyde, the film traces the journey of social misfits Jimmy (Furlong) and Judy (Bella), spirited young lovers who leave their comfortably numb suburban community in search of a better life in rural Kentucky. The film is a provocative and voyeuristic look at a young couple's attempt to break out of the mold and the price they must pay to do so. The film also stars William Sadler (The Green Mile, The Shawshank Redemption) as the very memorable Uncle Rodney and James Eckhouse who stars as Jimmy's Dad in a role you'd never expect from the man who played the always proper Brandon's dad on Beverly Hills 90210.
About Monogram Virtua Entertainment:
Monogram Virtua Entertainment is a full service 3D virtual world consulting, building and design firm founded by filmmaker Randall K. Rubin and cutting edge digital entertainment technology expert Harold Whaley. Founded in the ever popular Second Life platform, which open its doors to the public in 2003 and has grown explosively and today is inhabited by millions worldwide, Monogram Virtua's business centers around providing artists, entertainers, and entertainment business partners with a portal into the discover a vast digital community, teaming with people, entertainment, experiences and commercial opportunities. Imagine creating any business you want in the virtual world and having customers from all over the globe, who visit, become exposed to your products, and purchase both real life and Second Life merchandise with real exchangeable currency in an environment free from the restrictions of physical commerce. Second Life currently supports millions of US dollars in daily convertible currency transactions and countless more in traditional commerce generated by virtual world advertising of real life products, and Monogram Virtua is a premium conduit to bridge the gap between real world entertainment and 3D cyber commerce. For additional information, go to http://www.monogramvirtua.com
For more information, a screener or interview requests, contact:
Harold Whaley, hdub @ monogramvirtua.com, 619.573.9867
--or--
Randall K. Rubin
dubbler @ monogramvirtua.com
310.594.7750
Jimmy and Judy
DVD Street Date: January 2, 2008
Catalog #: DV 15442
UPC: 0 1313 15442-9 9
Format: Widescreen
Run Time: 100
Minutes Rating: R for strong sexuality, nudity, violence, drug content and language.
SRP: $26.97
Bonus Features: Deleted and extended scenes, unrated and rated trailers, and audio commentary.
###