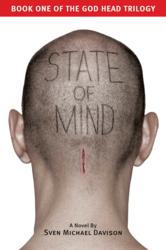 I love the use of the future technology here, all of it is based on research and development that is going on right now
Los Angeles, CA (PRWEB) December 07, 2011
Sven Michael Davison's recently published novel "State of Mind" shows us a world filled with technological advances currently in development today and how they will affect a society of the near tomorrow. The novel's central plot device is a chip that is implanted in the brain to give the user all the benefits of a smart phone, plus the ability to regulate the body's biochemistry in thousands of beneficial ways… or not.
Sound farfetched? Already 3,000 patients with Parkinson's disease have neural implants. Apple's new Siri voice command, and person-to-person video calling sounded like science fiction to most just ten years ago. Given the Law of Accelerating Returns- the idea that technology advances exponentially every couple of years- it will not be long before tomorrow's dreams will become today's reality. Remember the touch interfaces in "Star Trek?" Oh yeah, those are called iPads or tablets today.
"I love the use of the future technology here, all of it is based on research and development that is going on right now, like the automatic self driving car (being introduced in London Heathrow Airport car parks this year and trailed by Google earlier in the year) the maglev trains (already in use in Japan) and all in one technology device which merges computer, mobile, games machine, TV etc all into one device that can be altered to suit it's use (something that is seen in the ultimate path the smart phone will take)." Antony Jones http://sfbook.com/state-of-mind.htm
"State of Mind" is a cautionary tale that examines the loss of freedom in a classic post-industrial dystopia. Jake Travissi, a fallen hero, is given a rare second chance at redemption. The price? Volunteer to have a computer chip implanted in his brain and join Homeland Security's experimental Enhanced Unit.
Davison wrestles with many of the most compelling themes of cyberpunk genre today: Should we embrace every technological advance without question? Should humankind blend itself physically with machines? What does freedom really mean? All of these questions are answered within a vivid tapestry where the boundaries between the virtual world and the real world have dissolved.
"State of Mind" is a finalist and winner of two Dan Poynter's Global eBook Awards.
"State of Mind" is a tense, thoughtful and well-paced sci-fi tale drawn from Davison's life, imagination and his experiences with technological innovation. – Pod Cast Interview by Bryan Reesman http://www.bryanreesman.com/blog/tag/sven-davison-state-of-mind/
"A thoughtfully composed piece of cyberpunk that will please readers of both science fiction and noir." – Kirkus Reviews
"Davison's Los Angeles is pulpy- vibrant, an unforgettable wasteland. State of Mind is the world of the near future, the horrible synthesis of human desire and the technology to make it a reality. – ForeWord Reviews
"This book deserves to go directly to the 'Top Ten Best Sellers List.'" – Deb Shunamon, Reader Views.
"There are some crazy twists and turns in this novel and the end? One word… WOW. It totally blew me away. There are plenty of shocking, hanging on the edge of my seats moments." – Alice Bola, girls just reading
Davison has worked as a trailer copywriter at Paramount Pictures and a staff screenwriter for several other smaller production companies. Davison currently oversees the linear content and menu production at 1K Studios, which is employed by most major motion picture studios.
For more information visit http://www.stateofmindbook.com
STATE OF MIND
By Sven Michael Davison
Published by Bedouin Press
$25.95 • (389 pages) • 6 x 9
Hardcover with dust jacket • ISBN: 978-0-9666149-2-3
eBook $4.95
Publication date: 2011
http://www.stateofmindbook.com
To request a review copy or to schedule an interview, contact: Jeannine Patton
info(at)bedouinpress(dot)com
(310) 748-8731
###