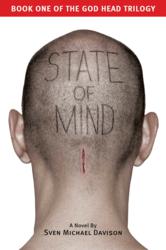 I'm not sure who thought of it first, but I've seen the back of a bald head used for advertising anything from fragrance to Banks over the course of 2011. I'm happy to be a part of a trend.
Los Angeles, CA (PRWEB) December 15, 2011
Sven Michael Davison's recently published novel "State of Mind" will be invading the streets of Los Angeles this holiday season. The iconic, scarred head from the book's award winning cover has been making the rounds in publications and on the internet since October of 2010. Look for the head in collectible poster form in the streets of other cities throughout 2012.
"I'm not sure who thought of it first, but I've seen the back of a bald head used for advertising anything from fragrance to Banks over the course of 2011." Noted the book's author, Sven Davison. "I'm happy to be a part of a trend."
Davison had conceived the cover and the tag line "your thoughts are not your own..." many years before the book "State of Mind" was completed. Derrick Abrenica, a graphic artist and designer who had recently moved to LA from Washington DC, is responsible for converting the idea into the award winning cover design. Abrenica is also responsible for all the other ancillary graphics in the "State of Mind" universe.
The photograph was taken by the author of one of his friends. "A buddy of mine swung by my place on his way to the outlet malls in Camarillo. I shot him against a white lamp shade and a white door. Derrick definitely had to use some magic to get the cover to look as brilliant at is does," Davison said.
"State of Mind" is a cautionary tale that examines the loss of freedom in a classic post-industrial dystopia. Jake Travissi, a fallen hero, is given a rare second chance at redemption. The price? Volunteer to have a computer chip implanted in his brain and join Homeland Security's experimental Enhanced Unit.
Davison wrestles with many of the most compelling themes of cyberpunk genre today: Should we embrace every technological advance without question? Should humankind blend itself physically with machines? What does freedom really mean? All of these questions are answered within a vivid tapestry where the boundaries between the virtual world and the real world have dissolved.
"State of Mind" is a finalist and winner of two Dan Poynter's Global eBook Awards.
"A thoughtfully composed piece of cyberpunk that will please readers of both science fiction and noir." – Kirkus Reviews
"Davison's Los Angeles is pulpy- vibrant, an unforgettable wasteland. State of Mind is the world of the near future, the horrible synthesis of human desire and the technology to make it a reality. – ForeWord Reviews
"An intelligent, thought provoking, cinematic post-cyberpunk thriller and a great read."

"This book deserves to go directly to the 'Top Ten Best Sellers List.'" – Deb Shunamon, Reader Views.
"There are some crazy twists and turns in this novel and the end? One word… WOW. It totally blew me away. There are plenty of shocking, hanging on the edge of my seats moments." – Alice Bola, girls just reading
"State of Mind" is a tense, thoughtful and well-paced sci-fi tale drawn from Davison's life, imagination and his experiences with technological innovation. – Pod Cast Interview by Bryan Reesman http://www.bryanreesman.com/blog/tag/sven-davison-state-of-mind/
Sven Davison was raised in Denver, graduated NYU with a bachelor's degree in film, and has worked as a trailer copywriter at Paramount Pictures and a staff screenwriter for several other smaller production companies. Davison currently oversees the linear content and menu production at 1K Studios, which is employed by most major motion picture studios.
For more information visit http://www.stateofmindbook.com
STATE OF MIND
By Sven Michael Davison
Published by Bedouin Press
$25.95 • (389 pages) • 6 x 9
Hardcover with dust jacket • ISBN: 978-0-9666149-2-3
eBook $4.95
Publication date: 2011
http://www.stateofmindbook.com
To request a review copy or to schedule an interview, contact: Jeannine Patton
info(at)bedouinpress(dot)com
(310) 748-8731
# # #