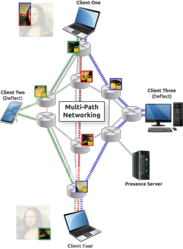 On any given day, there are as many as 7 million DoD computers and telecommunications tools in use in 88 countries using thousands of war-fighting and support applications. The number of potential vulnerabilities...is staggering
Atlanta, GA (PRWEB) December 11, 2012
Dispersive Solutions, Inc. (DSI) announces a patented technology called Virtual Dispersive Networking (VDN), with Spread Spectrum IP™. Virtual Dispersive Networking (VDN) is an unprecedented and groundbreaking solution unlike any other existing network security solution. VDN makes wireless networks as secure as wired ones. The balance of power in Cyber Security now shifts back in defense of the user.
Other network security solutions deal with the transmission of data at the firewall, through to, and within the Network Operations Center (NOC). DSI's patented technology protects the transmission of the data where it is most vulnerable—on the Internet. VDN is a 100% software-based solution that works on the existing network infrastructure and devices. Implementation is as easy as a software download to each device. VDN can be used with fixed and mobile devices, including servers, PC's, tablets and smartphones.
Over the last 18 months, DSI has garnered significant traction within the military and federal government, having completed several deployments to date. Interest continues to surge amongst the ranks of the military and government. Most recently, DSI rolled out its patented technology to the commercial sector.
Presently, on a standard network, when one device sends data (document, VoiP, Video, etc.), to another device, the entire message/file is sent via a single path from the sender to the receiver. This single path data stream is what makes data transmissions vulnerable to Man-In-The-Middle attacks. DSI's Virtual Dispersive Networking (VDN) protects against Man-In-The-Middle attacks by taking that same file, separating it into multiple pieces, and forcing those pieces to take independent paths to their destination. Additional security is provided by encryption that varies from path to path. When the individual pieces arrive at the receiving end, they are authenticated and then reassembled for use. Therefore, if a hacker attempts to mount a Man-in-the-Middle attack on any one of those independent paths, the hacker only gets one piece of that file. The attack is rendered unproductive, since that one piece of the file is effectively unusable without the remaining pieces that travelled via the other routes.
The selected paths for each piece of the data stream are random, simultaneous, and continuously changing, analogous to a "spread spectrum frequency hopping" radio for IP based networks. This technology makes it nearly impossible for the hacker to know what other paths are being used to transmit the remaining pieces of the file.
Besides the secure transmission of the data, additional benefits of VDN include an increase in network throughput speeds, improved quality of service, and the ability to firewall any device in the "cloud". In addition, VDN technology prevents interruption of network operations by automatically and instantaneously identifying an attack on any network component, and isolating that device from the rest of the network. Hackers are unable to move to, or affect other devices on the network.
DSI serves any industry, including government, military, banking, finance, wireless telecommunications, healthcare, utilities, and corporate security.
Dispersive Solutions, Inc, is led by Robert W. Twitchell Jr., CEO, and inventor of VDN technology. He has an extensive background in the wireless industry. He holds over 70 granted patents with many more non-provisional patents pending in wireless, GPS, networking, and location technology. He is also a Subject Matter Expert for the Department of Defense on Mobile and Wireless Technology.