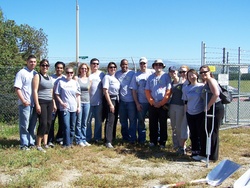 This competition is similar to Cydcor's own culture
Westlake Village, Calif. (PRWEB) May 6, 2009
For the first time, Cydcor, the leading provider of outsourced, face-to-face sales teams, joined the ranks of Ventura county businesses for some friendly competition during the 2009 Ventura Corporate Games this spring. The company kicked off its participation by lending a hand (and a shovel) at one of the group's community service events - the Harbor Wetlands Restoration Project.
More than 60 business entities in Ventura and Santa Barbara Counties join together every spring to compete in the Corporate Games hosted by the City of Ventura. Last year, nearly 10,000 employees competed against each other and took part in community service events. Each company earns points based on how teams do in each event - with 30 events in 30 days.
"This competition is similar to Cydcor's own culture," said Vera Quinn, senior vice president of operations for Cydcor. "Creating a strong sense of unity and teamwork among fellow employees is important to our business' core and we're happy to share the experience with other companies in our community."
As one of the first to assist in the creation of the Ventura Harbor Ecological Reserve, Cydcor team members, their friends and family members, removed invasive non-native plants in order to restore the spot to its natural state and began to clear an entry pathway to the reserve - a place that will soon be designated a scenic area along the coastline. This promotes nesting for migratory birds that have trouble nesting in the current environment.
"It's a pleasure that Cydcor joined this year's Corporate Games and we look forward to future years of fun and networking," said Rosie Ornelas, Volunteer Coordinator for the City of Ventura. "We do our best to bring the community together - not only for old-fashioned fun and competition, but for a common cause."
About Cydcor, Inc.
Cydcor, Inc., is the leading provider of outsourced, face-to-face sales teams to a diverse client base of companies in a range of industries, including telecommunications, office products, retail energy and financial services. Cydcor works with a network of independently owned corporate licensee (ICL) sales offices providing clients with access to more than 2,700 sales professionals and 200+ offices in North America. The privately held company is currently based in Westlake Village, California. For more information about Cydcor, log on to http://www.cydcor.com.
###