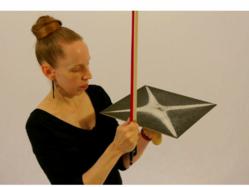 Cymatics is a great way to teach kids about sound
Brattleboro, VT (PRWEB) June 19, 2012
Jodina Meehan, an artist who uses sound waves to make steel paintings, is launching a new iPhone app to allow users to see the shape of sound on their phone or iPhone or iPad. She is using Kickstarter to launch the app this June.
The app will the use the new science of cymatics (visible sound) to allow users to see the geometric pattern their voice or favorite music makes on a handheld device. "I use cymatics every day to make art; now I want to use an app to let everyone access this amazing phenomenon," says Meehan.
In the field of science, cymatics is being used to teach the hearing-impaired how to vocalize more clearly, to make video images of the sound of the sun, and to create an alphabet of dolphin sounds. Artists around the world also use cymatics to create stunning images and musicians use cymatics to project their music in visible form during performances.
"Cymatics is a great way to teach kids about sound waves," says the artist. "In fact, two elementary students have recently used cymatics for their school science fairs, and both won first place."
Now, any iPhone or iPad user will be able to download the cymatics App and use it to create one-of a-kind images of sound that they can record, post online and email to friends. The images can be created using "your voice, your favorite music, or pure electronic frequencies" says the artist, who has created her own images using all three.
The iPhone app is being launched through Kickstarter in the next 15 days and will only be completed if it's funding goal is reached in that time. To see a 5 minute video about cymatics and the new iphone app visit: http://www.cymaticapp.com
Jodina Meehan is a cymatic artist working in Southern Vermont. She is also editor of the Journal of Cymatics and founder of the School of Cymatics online.