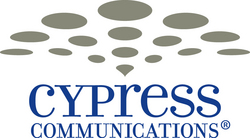 Our Alliance Partners will enable us to meet the growing market demand for hosted unified communications, extending the reach of our C4 IP™ unified communications solution into regions where we do not have a major direct presence
Atlanta, GA (Vocus) July 15, 2009
Cypress Communications has accelerated the evolution of its strategic partner network--launching an expanded and enhanced channel sales program, formally titled the Alliance Partner Program. The program is designed to help build partners' profitability and support their efforts to capitalize on Cypress' innovation and leadership in the hosted VoIP and hosted unified communications market. In conjunction with the Alliance Partner Program launch, Cypress also proudly announces its official partnership with Presidio Telecom Solutions, a leading provider of business enablement and managed outsourced solutions.
"Our Alliance Partners will enable us to meet the growing market demand for hosted unified communications, extending the reach of our C4 IP™ unified communications solution into regions where we do not have a major direct presence," said Steve Ulbrich, director of alternate channels at Cypress. "We are selective in the companies with whom we join forces, and we are confident that Presidio's tremendous breadth of knowledge and skills will make them a valuable addition to our Alliance Partner Program."
As the industry leading managed and professional services organization Presidio employs a telecom-savvy direct sales team who are focused on customer business issues. Participation in the Alliance Partner Program will allow Presidio to combine their vast experience in telecommunications with Cypress' award-winning hosted unified communications solution, driving significant growth for Cypress and enabling Presidio to further differentiate itself within the industry.
"Our strategic partnership with Cypress will enable us to strengthen our portfolio of products and services and capitalize on the demand for fully hosted unified communications," said Michael Ladd, Director, Business Development, Presidio Telecom Solutions. "Cypress' solution offers a unique value proposition for small-to-medium enterprises looking to move forward with unified communications, and we look forward to the mutual success that this relationship will bring."
The Alliance Partner Program provides the opportunity to leverage sales and operations synergies between Cypress and its partners, broadening Cypress' distribution reach and driving incremental revenue, while also decreasing customer acquisition costs. For authorized partners, the program offers a variety of benefits ranging from pre-and post-sales support; numerous tiered opportunities to earn commissions; and a comprehensive portal that will act as a one-stop shop for managing prospects, submitting and tracking orders and accessing an extensive library of marketing resources.
The Cypress C4 IP solution--named for its ability to help businesses connect, communicate, collaborate and continue™--has been recognized by industry experts with numerous awards and analyst recommendations. C4 IP comes complete with converged voice and data services, integrated audio and Web conferencing, multimedia collaboration tools, and robust support for remote workers. The solution is uniquely positioned for maximum market share with more multimedia integration options than competitive solutions, a national footprint with 99.999% managed QoS and inherent business continuity with automatic failover options.
About Presidio Telecom Solutions
Presidio Telecom Solutions is a dedicated business unit of Presidio Networked Solutions, Inc., focused on providing complete telecommunications solutions to our customers. As an operational partner for telecom inventory creation, savings analysis, solution design, procurement, implementation, management, and optimization, Presidio Telecom Solutions works closely with our customers to ensure they attain the desired results. From one-off projects to long-term management engagements, PTS considers the client's unique requirements and customizes the most effective communications solution.
About Presidio Networked Solutions
Presidio Networked Solutions, Inc. is the leading provider of advanced IT lifecycle solutions, addresses the complete technology lifecycle - plan, design, integrate, operate and optimize - for the enterprise, commercial and government markets. Presidio's comprehensive solutions portfolio comprises unified communications, wireless, security, storage, network infrastructure and managed services. Holding the highest networking industry certifications from vendor partners Cisco, IBM, HP, Sun, EMC, NetApp, VMware and Microsoft, Presidio Networked Solutions is well-positioned to meet the growing needs of customers migrating to advanced technologies. Presidio also offers customers an extensive range of financing solutions, including leasing. For more information visit: http://www.presidio.com .
Presidio Networked Solutions is a trademark of Presidio, Inc. Other trade names used in this document are acknowledged to be the properties of their respective owners.
About Cypress Communications
For over 20 years, Cypress Communications has been helping small-to-medium enterprises (SMEs) connect, communicate, collaborate and continue™ with a range of fully hosted and managed voice, data and Internet solutions. Beginning in 2006, Cypress revolutionized the communications industry with its hosted VoIP and hosted unified communications solution, C4 IP, making it easy for SMEs to take advantage of productivity-enhancing technology such as integrated audio and Web conferencing , multimedia collaboration tools, presence , chat, Microsoft® Outlook integration , and more. As a Deloitte Fast 50 and Fast 500 award recipient, Cypress is recognized as one of the fastest growing telecommunication companies in North America. In 2008, the company was also named one of Atlanta's Best Places to Work. Cypress' hosted unified communications solution has received numerous awards and accolades, with 15 awards for excellence and innovation to date. The company's Web address is http://www.cypresscom.net.
To learn more about hosted unified communications, visit the company's UC 360 blog at http://blog.tmcnet.com/uc-360.
© 2006-2009 Cypress Communications, Inc. The Cypress Communications logo is a registered service mark of Cypress Communications, Inc. C4 IP is a trademark of Cypress Communications. Connect, communicate, collaborate and continue is a trademark of Cypress Communications. All other marks used herein are the property of their respective owners.
For more information, contact:
Heather Whitt Roberts
Cypress Communications
404-442-0034
# # #