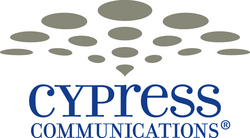 Atlanta, GA (Vocus) February 25, 2009
Ascensus, a leading financial organization and a long-term customer of Cypress Communications, is making the move to IP communications, bringing nearly 1,000 associates from six offices--including a 300-person call center--under a Cypress. For over a decade, Cypress Communications provided traditional telephony services to select Ascensus locations, so when the company wanted to connect all of their offices with state-of-the-art VoIP and unified communications and IP-enable their call center, they turned to their trusted provider, Cypress Communications. And with Cypress' fully hosted delivery model, Ascensus will benefit from better technology and expanded functionality--without a major upfront capital investment.
"Cypress' C4 IP solution will allow us to refresh our entire hardware platform, reduce complexity and increase the functionality, while reducing our costs. In an economic cycle where it is hard to justify any capital spends, selecting the Cypress solution was an easy decision to make," said John Schroeder, senior vice president of information technology at Ascensus.
By centralizing their communications and deploying the same Cypress solution across all locations, Ascensus is able to create a single enterprise-wide platform for the company's call centers, utilize the same voicemail platform for all associates, eliminate long distance calling between offices, help improve employee productivity and operational efficiency, and benefit from robust business continuity and survivability.
Cypress will be providing Ascensus with its C4 IP™ hosted unified communications and integrate with Ascensus' contact center solution, IP-enabling Ascensus' call center. Among the many new features that Ascensus associates will soon take advantage of are Microsoft® Outlook integration, robust support for mobile workers and call recording and quality management functionality which captures both voice and screen activity.
Frank Grillo, executive vice president of marketing at Cypress Communications, added "C4 IP has the power to connect hundreds and even thousands of employees across the country and enable them to work as if they are in the same office. Gone are the days where the phone is just a phone. With C4 IP, the phone and the PC interoperate and collaborate seamlessly. We're thrilled that Ascensus has selected to continue working with Cypress, and we look forward to supporting their business goals and success with these powerful solutions."
Ascensus' call center is staffed by approximately 300 agents - nearly a third of the company's employees. With their previous system, Ascensus' agents were tied to the physical location where the call center platform resided, which created communication barriers between locations. But with Cypress' hosted delivery model, communication between agents and with customers will be virtually seamless. Known for its excellence in customer care, Ascensus will be able to address customer concerns from either one of the company's call center locations and utilize any number of remote agents. Supervisors will also have greater visibility with management control of both locations and remote employees from anywhere, at any time. But most important to Ascensus, the barriers to seamless customer care have been removed as the geographic distribution of call center agents will be transparent to their customers.
The hosted delivery model with its array of remote capabilities enables Ascensus to reach beyond their current geographic locations when hiring new associates. Additionally, the remote capabilities ensure that the company and call center can continue operating--even in the face of a disaster. If the unforeseen occurs, employees can log into the system from any location that has an Internet connection and continue working productively. And since Cypress' network is designed for maximum availability, Ascensus' associates won't be left in the dark in the event of a disaster.
Cypress' network, which has been engineered with no single point of failure, is designed to automatically detect potential faults and self-correct and is supported by redundant devices. The hosted VoIP and unified communications functionality is offered via distributed, carrier-grade switching and multimedia platforms that feature full component and geographical redundancy. Additionally, Cypress is taking business continuity to the next level with added failover capabilities which will provide alternative routes for communications traffic.
As the nation's leading independent recordkeeper and administrator for retirement plans and provider of regulatory expertise, plan document services and participant enrollment support, Ascensus' success is dependent upon its ability to provide extraordinary customer service. And with six office locations, nearly 1,000 associates and tens of thousands of customers, that success rests largely on everyone's ability to communicate effectively and efficiently. With the range of features and functionality in C4 IP and Cypress' expansive IP network built for business continuity, Ascensus associates will be able to connect, communicate, collaborate and continue™ in the face of any situation.
About Ascensus
With more than 30 years of industry experience, Ascensus provides high-quality solutions for every segment of the retirement marketplace. Ascensus is a division of Crump Group, Inc., the largest and most diversified wholesale insurance distributor in the United States. As the nation's largest independent recordkeeper and administrator for retirement plans in the micro to large market segments and a leading provider of regulatory expertise, plan document services and participant enrollment support, Ascensus services over 26,000 defined contribution plans. The company's core capabilities encompass every component of a sophisticated retirement infrastructure, including administration, recordkeeping, ERISA consulting, compliance and sales support, trust and custody services, multilingual participant education programs, training and documentation. These solutions are offered with the open architecture investment capabilities that can be tailored to support the needs of institutional retirement plan providers, third party administrators, financial advisors and their clients. For more information, visit http://www.ascensus.com .
About Cypress Communications
For over 20 years, Cypress Communications has been helping small-to-medium enterprises (SMEs) connect, communicate, collaborate and continue™ with a range of fully hosted and managed voice, data and Internet solutions. Beginning in 2006, Cypress revolutionized the communications industry with its hosted VoIP and hosted unified communications solution, C4 IP, making it easy for SMEs to take advantage of productivity-enhancing technology such as integrated audio and Web conferencing , multimedia collaboration tools, presence , chat , Microsoft® Outlook integration , and more. As a Deloitte Fast 50 and Fast 500 award recipient, Cypress is recognized as one of the fastest growing telecommunication companies in North America. In 2008, the company was also named one of Atlanta's Best Places to Work. Cypress' hosted unified communications solution has received numerous awards and accolades, with 10 awards for excellence and innovation to date. The company's Web address is http://www.cypresscom.net.
To learn more about hosted unified communications, visit Frank Grillo's UC 360 blog at http://blog.tmcnet.com/uc-360.
© 2006-2009 Cypress Communications, Inc. The Cypress Communications logo is a registered service mark of Cypress Communications, Inc. C4 IP is a trademark of Cypress Communications. Connect, communicate, collaborate and continue is a trademark of Cypress Communications. All other marks used herein are the property of their respective owners.
For more information, contact:
Heather Whitt
Cypress Communications
404-442-0034
# # #