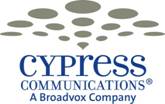 Atlanta, Ga. (Vocus/PRWEB) March 16, 2011
Cypress Communications announced today that TMC, a global, integrated media company, has named C4 IP as a recipient of the 2010 INTERNET TELEPHONY Product of the Year Award.
"This award reaches beyond features and functionality and gets to the heart of why we pursue excellence: for the success of our customers," said Frank Grillo, executive vice president of implementation and product marketing at Cypress Communications. "Small and mid-sized businesses and Enterprises are increasingly looking for cloud solutions, like C4 IP, that can help them accomplish more with less. C4 IP is the silver lining that enables businesses to benefit from better communications while reaping the financial and technological rewards that cloud computing offers. This award signifies that we have succeeded in creating a unique and innovative solution that generates real results for our customers, and that is truly rewarding."
C4 IP's hosted delivery model—which reaches past the traditional line of demarcation for communications solutions and extends all the way to users' desktops—delivers on its value proposition of providing the latest in Unified Communications technology while requiring no capital expense and no need for businesses to hire and train additional staff to manage the solution. C4 IP delivers voice and data services and a powerful suite of collaboration tools that include Microsoft® Outlook integration, unified messaging, real-time presence, file and desktop sharing, chat, and audio, video, and web conferencing. And with C4 IP's scalability, customers only pay for what they need and can scale services as business needs change.
"I am pleased to announce Cypress Communications as a Product of the Year Award winner. The editors of INTERNET TELEPHONY have verified that C4 IP displays quality and innovation plus provides real needs in the marketplace," stated Rich Tehrani, CEO,TMC. "I would like to congratulate Cypress for its commitment to advancing IP communication technologies."
2010 Product of the Year winners are published in the February 2011 issue of INTERNET TELEPHONY magazine, (http://www.itmag.com). INTERNET TELEPHONY has been the authority in IP communication since 1998™.
About Cypress Communications (A Broadvox Company)
Broadvox is a worldwide leader in providing integrated managed VoIP services and hosted Unified Communications to SMB, Enterprise, and carrier customers. It has deployed one of the largest, full-featured, global VoIP networks, and is trusted by more than 300 telecommunications carriers, ASPs, ISPs, and over 10,000 businesses to transport more than 15 billion minutes annually. The Network Operation Centers, operating 24x7x365, provide the reliability, security, and quality of service necessary for the world's most discriminating customers. Broadvox offers SIP Trunking, SIP origination and termination services, and award winning hosted Unified Communications solutions, including broadband and virtual PBX provisioning.
In 2006, Cypress revolutionized the communications industry with its hosted VoIP and hosted Unified Communications solution, C4 IP®, offering productivity-enhancing technology such as integrated audio and web conferencing, multimedia collaboration tools, presence, chat, Microsoft® Outlook integration, and more. C4 IP has received numerous awards and accolades for excellence and innovation to date.
Broadvox is a privately held company, headquartered in Dallas, Texas with operations centers in Cleveland, Ohio and Atlanta, Georgia. To learn more, visit us at http://www.broadvox.com and http://www.cypresscom.net.
About INTERNET TELEPHONY magazine
INTERNET TELEPHONY has been the IP Communications Authority since 1998™. Beginning with the first issue in February of 1998, INTERNET TELEPHONY magazine has been providing unbiased views of the complicated converged communications space. INTERNET TELEPHONY offers rich content from solutions-focused editorial content to reviews on products and services from TMC Labs. INTERNET TELEPHONY magazine reaches more than 225,000 readers, including pass-along readers. For more information, please visit http://www.itmag.com.
About TMC:
Technology Marketing Corporation (TMC) is a global, integrated media company helping clients build communities in print, in person, and online. TMC publishes Customer Interaction Solutions, INTERNET TELEPHONY, Unified Communications, NGN and InfoTECH Spotlight magazines. TMC is the producer of ITEXPO, the world's leading B2B communications event. TMCnet.com, which is read by two million unique visitors each month, is the leading source of news and articles for the communications and technology industries. In addition, TMC runs multiple industry events: 4GWE; Smart Grid Summit; M2M Evolution; Cloud Communications Summit; Social CRM Expo; SIP Tutorial; VIPeering; Business Video Expo; CVx; Digium|Asterisk World; StartupCamp; MSPAlliance MSPWorld and more! Visit TMC Events for a complete listing and further information. For more information about TMC, please visit http://www.tmcnet.com.
Broadvox Contact:
Malachi Threadgill
Internet Marketing Manager
214 646 8014
214 646 8005 F
mthreadgill(at)broadvox(dot)com
TMC Contact:
Jan Pierret
Marketing Manager
203-852-6800, ext. 228
jpierret(at)tmcnet(dot)com
© 2011 Broadvox and Cypress Communications. The Broadvox and Cypress Communications logos are registered service marks of Broadvox. All other marks used herein are the property of their respective owners.
###