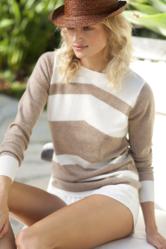 C.Z. Falconer's lavish, cashmere-heavy designs are typically found on sought-after A-listers and flashbulb-attracting It-girls
Los Angeles, CA (PRWEB) March 25, 2013
WHAT - Luxury Cashmere Knits by fashion brand C.Z. Falconer to appear on Season 1 of "The Carrie Diaries"
WHO - The lovely Ellen Wong, starring as Jill "The Mouse" Chen, will be wearing the C.Z. Falconer's Arno cashmere sweater in Taupe and White from Spring 2013 Collection in Episode 111, scheduled to air on The CW on March 25, 2013.
WHY - CWTV's new hit show "The Carrie Diaries" is the prequel to the legendary HBO television series "Sex and the City" that was based on the book of the same name by Candace Bushnell. Sex and the City earned its status as one of the — if not, the — most fashionable TV shows of all time.
WHEN - Season 1, Episode 111 of "The Carrie Diaries" scheduled to air on Monday March 25, 2013, 8:00 PM EST / 7:00 PM CST.
WHERE - The CW Television Network
HOW - For more information about C.Z. Falconer, visit their website.
ABOUT C.Z. FALCONER - Founded in 2009, C.Z. Falconer began to create glam pieces with timeless appeal, for everything from relaxed afternoons to post-sunset cocktails. Delicious cashmere, soft wearable knits, and uber-feminine resortwear, worn over the sexiest bikinis, are staples in the collection. The designs consist of classic silhouettes, embodying style and substance. Inherent to the brand are pieces that are crafted in subtle basic tones, mixed with fabrics brought to life with bright, stunning color. Things we love: fabulous parties, stylish travel, swimming in fancy pools, french polynesia, luxurious loungewear, cashmere, flowy see-through numbers we can wear over our bikinis, foreign languages, palm springs, gstaad, harem pants, and apres-ski. Meet us by the pool at midnight.