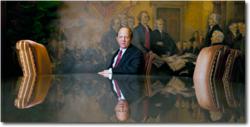 St. Louis, MO (PRWEB) March 21, 2013
James G. Onder, a nationally recognized attorney for handling serious products liability cases, such as window blind cord strangulation and medical device and pharmaceutical products liability litigation, has announced he is currently investigating cases of surgical complications and injury stemming from robotic surgeries that utilized the da Vinci Surgical System. The da Vinci Surgical System is a surgery robot manufactured by Intuitive Surgical, Inc. and used in laparoscopic surgery. There have been a number of da Vinci surgery injury lawsuits filed recently (Superior Court of Washington, No. 09-2-03136-5; United States District Court, Northern District of Alabama, Case 7:12-cv-01082-LSC) alleging complications during a da Vinci surgery resulted in severe injuries. The Intuitive Surgical da Vinci Surgical System is the leader in robotic surgery, but, as reported by the Los Angeles Times (articles.latimes.com/2011/oct/17/health/la-he-robotic-surgery-20111017), has come under fire from prominent surgeons and Intuitive Surgical's claims of benefits to surgery patients have also been called into question. Nonetheless, robotic surgery is becoming more and more pervasive. Intuitive Surgical, Inc., the company behind the da Vinci Surgical System, reported $2.2 billion in sales in 2012.
Lawsuits currently filed against the maker of the da Vinci Surgical System allege that not only did Intuitive Surgical over-market the benefits of its robotic surgery and minimize the potential risk of complications compared to traditional laparoscopy, but that the equipment contained a design defect that increased the chances of complications occurring during surgery. Attorney James Onder is speaking with persons having had a robotic surgery that resulted in some type of complication or required subsequent surgeries to complete or correct. Most of the people Onder has thus far consulted with had problems during or after a hysterectomy or prostate surgery. Onder is extending his no-cost, no-obligation da Vinci surgery complications lawsuit attorney consultation to people nationwide to people who feel they have a claim and will represent all da Vinci Surgical Solution clients on a contingency basis, with no fees of costs of any kind unless his firm is able to secure compensation for that client. Mr. Onder also makes clear that da Vinci Surgical System lawsuits are not class action lawsuits, but will be handled, and receive compensation if successful, based upon the circumstances of each individual case.
James Onder is known as the leading national advocate for window blind cord strangulation litigation, having been quoted in major newspapers such as The New York Times and Chicago Tribune. Onder welcomes inquiries regarding robotic surgery injuries from other attorneys and law firms as referrals or working as co-counsel.
About The Onder Law Firm
Onder, Shelton, O'Leary & Peterson, LLC is a St. Louis based personal injury law firm handling serious injury and death claims across the country. Its mission is the pursuit of justice, no matter how complex the case or strenuous the effort. Onder, Shelton, O'Leary & Peterson have represented clients throughout the United States, and other firms throughout the nation often seek its experience and expertise on complex litigation. It is a recognized leader in products liability cases such as window blind cord strangulation and pharmaceutical litigation. The Onder Law Firm offers information pertaining to da Vinci Surgical System injury at http://www.davincirobotsurgeryinjurylawsuit.com.