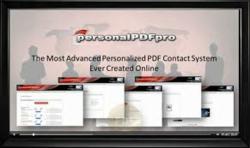 A lie gets halfway around the world before the truth has a chance to get its pants on
(PRWEB) August 07, 2012
PersonalPDFpro allows the user to edit word files to PDF easier than ever before. The editing software is complimented by your own personal PDF file link, AWeber link and Get Response link. The features of the PDF editor software from PersonalPDFPro are used by such successful companies as Daily Income Network. Described below are some of the features:
Create PDF Personal reports: The marketer can generate multiple reports quickly, converting word files to PDF online. Links provided allows users to market any product or service they are intending to promote online. Each product or service can have its own document and every single report can be designed and tailored for each of their receivers.
Create PDF Team Reports: It is now easy to develop a master report in PDF for all your team members to access. Each recipient will have their own personalized report. These created PDF files can be edited and formatted 24 hours a day and your team will have access to personal links including AWeber and Get Response.
PDF Quick Notes: Deliver a complete message to all prospective receivers free from spam traps. This is a PDF document that can be integrated into auto responders in emails. AWeber and Get Response are provided for each PDF file. They can create several quick notes that are customized down to each prospect for any product the marketers are promoting.
PDF Greeting Cards: During any holidays or business introduction, the online marketers can again use personal PDF pro to promote. Make a personalized greeting card in PDF, decorate it the way they want, add a company logo, picture and holidays greetings message for each of the prospects in their entire list.
Without a question PersonalPDFpro is a definite game changer when it comes to marketing online. Regardless of what type of business or product is being promoting online, PersonalPDFpro email marketing tools must be included.