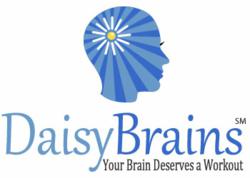 New research indicates that brain training can significantly reduce the risk for dementia.
Richmond, VA (PRWEB) June 21, 2012
After a successful launch in the United States, Daisy Brains has expanded their reach into Canada. "We have been so pleased with the response to our brain training site in the U.S. and are eager to share it with Canadians. Launching a new website is all about creating awareness of your offering. People can't benefit from Daisy Brains if they don't know about it," says co-creator and cognitive trainer Claire Herring.
Daisy Brains is also on schedule to receive significantly more traffic after June 30th when they announce a partnership with a major women's magazine. "We are so excited to become the face of brain games for this major publication. It's a real honor and offers us an opportunity to share Daisy Brains with people all over the world," says Herring.
The entire site has been created with women in mind, and it shows. Artful design is evident across the brain games, drawing challenges and brain teasers. "Brain fitness is now a real priority for me. I have helped take care of my mother suffering with dementia and want to do everything I can to keep my mind sharp," says Anna Marcantonio of Ottawa, Canada.
Baby boomer women continue as the fastest growing group joining Daisy Brains. Achieving optimal brain performance is a growing priority for women. Women live, on average, seven years longer than men, and women are being diagnosed with Alzheimer's disease at double the rate of men. Since launching in late February, the site has received more than 25,000 site visitors, with a new member joining about every 10 minutes.
Claire Herring notes, "Research shows that change is good for the brain. Studies find that the language and memory areas of our brain show marked changes when we are curious about something or tackling a new kind of problem. Upping the curiosity factor matters – that's why our team builds new workouts for our members every day."
Daisy Brains is a subscription-based website that includes a free trial period prior to joining as a full member. The site offers a variety of membership options and includes women's health articles and information in addition to brain exercises.
Founded in February 2012, Daisy Brains' mission is to challenge the brain fitness levels of women everywhere. Anyone can sign up for a free trial to experience the new brain workouts that http://www.daisybrains.com has to offer. Daisy Brains is privately held under The Rowing Team, LLC and is based in Richmond, Virginia.