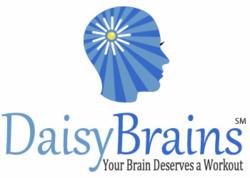 Research shows that change is what's good for the brain. Novel brain exercises are more effective in improving overall brain performance.
Richmond, VA (PRWEB) March 30, 2013
Major media outlets are showcasing Daisy Brains and their team of co-creators because of the more balanced approach given to brain training.
Unlike a number of brain fitness offerings in the market that provide only static brain games, Daisy Brains offers unique brain-healthy lifestyle tips, brain exercises and more. Grounded in the latest neuroscientific research, DaisyBrains.com offers a variety of brain-healthy challenges 365 days a year.
"People don't enjoy running on the same treadmill every day, and that goes for brain training too. We offer a variety of stimulating cross-training experiences for the mind," says co-creator and clinician, Claire Herring. "People naturally want variety in their workout routines. The added bonus is that science now shows the benefits of providing a variety of mental exercises as a way to improve our overall brain performance."
Daisy Brains is now featured on FitnessMagazine.com and will be highlighted in an April segment on the Hallmark Channel's "Home and Family" show. The importance of building a brain-healthy lifestyle continues to gain attention as baby-boomers age and the incidence of Alzheimer's disease continues to climb.
And Daisy Brains has a new look coming too. "We've listened to our members and are excited to be rolling out an entirely new look and feel to our brain training experience," says co-creator Gemma Brooks. "As we grow, we'll be adding more new features and information for brain-health enthusiasts. Keeping minds active is really the key."
Daisy Brains offers free brain training experiences as well as a full subscription product. New content is served up daily - 365 days a year and includes unique creativity challenges, brain teasers and brain games. Daisy Brains is headquartered in Richmond, Virginia. For more information, please visit http://www.DaisyBrains.com.