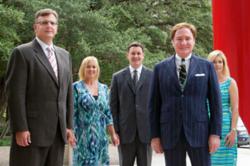 Dallas, TX (PRWEB) March 28, 2013
The Law Offices of W.T. Johnson has made a donation to Operation Kindness, the oldest and largest no-kill animal shelter in North Texas, this month.
The Dallas lawyers made the donation in order to help the animal shelter continue to serve homeless dogs and cats in the Dallas area. The shelter cares for 200-250 animals each day, providing them with food and shelter until they are adopted into responsible homes.
On April 21, Operation Kindness will be hosting its annual Hope Gala. Over the last four years, Operation Kindness has raised $560,000 through the gala in order to provide food, shelter and medical care for the thousands of animals that have passed through the nonprofit shelter. To make reservations for the Hope Gala, visit http://www.operationkindness.org/events/hope_gala/.
"We believe that part of our job as a responsible corporate citizen is to give back to the community we call home," said David Crowe, an attorney on the W.T. Johnson team. "Operation Kindness provides an important service to our community by matching homeless pets with loving homes, and that's a service we want to support. We hope other businesses in the Dallas area will follow suit and find local nonprofits to support."
In addition to Operation Kindness, The Law Offices of W.T. Johnson has provided a monthly donation to four other area nonprofits, including the Dallas Arboretum and Botanical Garden, the Ronald McDonald House of Dallas, the United Way of Metropolitan Dallas and the Cancer Support Community of North Texas.
About The Law Offices of W.T. Johnson
The Law Offices of W.T. Johnson is a team of personal injury and consumer attorneys in Dallas, Texas. The attorneys on the team have recovered more than $50 million for clients and have more than 25 years of experience representing clients in cases involving nursing homes, car accidents and product liability, among others.