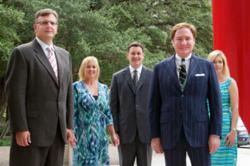 DALLAS, TEXAS (PRWEB) April 10, 2013
The Law Offices of W.T. Johnson has made a donation to Operation Kindness, the oldest and largest no-kill animal shelter in North Texas, for the month of April.
The donation will go to help Operation Kindness continue to fulfill its mission to care for homeless dogs and cats in the North Texas area, helping each animal served by the shelter find a responsible, loving home.
Since Operation Kindness opened its doors in 1976, the shelter has saved more than 70,000 animals. On a day-to-day basis, Operation Kindness cares for 200-250 animals in the shelter and another 60-80 animals through foster homes. Operation Kindness helps more than 3,000 pets each year.
According to David Crowe, an attorney on the W.T. Johnson team, the Dallas attorneys chose to support Operation Kindness because there are thousands of homeless pets in North Texas.
"The work Operation Kindness is doing to find loving, caring families for these homeless pets is excellent," Crowe said. "Not only are there so many homeless pets in our area, but there are so many people who could use a loving companion, and Operation Kindness helps connect these people with pets that will improve their lives."
Currently, Operation Kindness has 74 cats and 57 dogs available for adoption on the shelter's website. To view a gallery with pictures and information about these pets, click here.
About The Law Offices of W.T. Johnson
The Law Offices of W.T. Johnson is a team of personal injury and consumer attorneys in Dallas, Texas. The attorneys on the team have recovered more than $50 million for clients and have more than 25 years of experience representing clients in cases involving nursing homes, car accidents and product liability, among others.
###