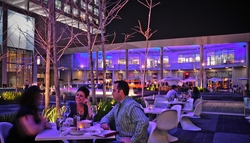 I invite everyone to come experience the world of cuisine at One Arts Plaza and the amazing transformation happening in the Dallas Arts District
Dallas, TX (PRWEB) July 27, 2009
You don't have to travel far to experience the taste of award-winning global cuisine in Texas. One Arts Plaza is the one address in Texas where people experience an international culinary district without flying thousands of miles away. Anchoring the Dallas Arts District, the largest urban arts district in the United States, the luxury One Arts Plaza development brings together fine arts and performing arts with the culinary arts to create an international experience for tenants and visitors alike.
"At One Arts Plaza you can get a lesson in drinking sake at one moment and taste hand-made, Southern grits the next," says Lucy Billingsley, Partner, Billingsley Company, and developer of One Arts Plaza. "Award winning Italian, Mexican, French and American inspired cuisines are available at our five anchor restaurants, which encircle the outdoor plaza and fountain. You literally have the world at your feet when living at or visiting One Arts Plaza."
From authentic world flavors to adventures in good eating - One Arts Plaza provides five delicious dining options at the one premier address in Texas for food and art alike. The luxury residences of One Arts Plaza are situated in the heart of the thriving Dallas Arts District.
The Dallas Arts District is the largest urban arts district in the United States and comprises the Dallas Museum of Art, the Nasher Sculpture Center, Meyerson Symphony Center and the new Dallas Center for the Performing Arts ("DCPA"), which includes the Winspear Opera House and Wyly Theatre and is scheduled to open to international acclaim this fall. With the addition of the DCPA, residents can now experience the world's premier art, music and food in the heart of the revitalized Dallas Arts District.
"We are proud to be a part of this amazing development for Dallas and the arts," says Billingsley. "The Dallas Arts District is center stage and One Arts Plaza provides you a front row seat to the arts and the amazing international cuisine we offer."
The five restaurants at One Arts Plaza that make up the "International Culinary District" are:

Tei An - Japanese restaurant dishing up Japanese fare while specializing in soba noodles. The restaurant has been named No. 1 on the list of "Best New Restaurants of 2008" by The Dallas Morning News. Texas Monthly also listed Tei An in the "Where to Eat Now - 2009" feature. Tei An has also been honored by the James Beard Foundation.
Dali Wine Bar & Cellar - This exceptional restaurant offers an unparalleled wine list and food with a new American and French influence. Dali was named among "Best New Restaurants of 2008" by The Dallas Morning News.
Jorge's - Offering a unique Tex-Mex dining experience, Jorge's restaurant brings over 50 years of Mexican tradition blended into every recipe.
Fedora - Fedora takes guests back to the 1940s both through with the restaurant's design and classic menu with interpretations of Italian pastas, pizzas, and other dishes inspired by passion of all things Italian.
Screen Door - Visitors will be taken back to the porch of decades ago and introduces one to new generations of dishes that think in fresh ways about southern cuisine. Screen Door was named among "Best New Restaurants of 2008" by The Dallas Morning News.
"I invite everyone to come experience the world of cuisine at One Arts Plaza and the amazing transformation happening in the Dallas Arts District," adds Billingsley.
Please visit http://www.oneartsplaza.com for more information on One Arts Plaza and its restaurants.
About One Arts Plaza
One Arts Plaza, located on the eastern edge of Dallas' emerging Arts District, is a 24-story, $150 million multi-use structure. The first of three buildings on over 10 acres, its prominent location at the eastern end of Flora Street, the area's central axis, makes it the focal point of the entire Arts District. Designed by architect Lionel Morrison and developed by Billingsley Company, One Arts Plaza offers over 20,000 square feet of retail and restaurants, over 500,000 square feet of office space and 61 modern residences, redefining the concept of lifestyle, work and retail in one location.
One Arts Plaza officially opened in March 2007 with the move-in of 7-Eleven Inc., who occupies 60 percent of the office space, followed by the opening of 7-Eleven's flagship retail store in April 2007. Architectural firm Morrison Seifert Murphy and then the law offices of Thompson and Knight moved in as well.
In 2008, One Arts welcomed the opening of Renée Rouleau Skin Care Spa in January, followed by restaurants Dali Wine Bar and Cellar, owner Paul Pinnell's wine bar, restaurant and retail concept, and Screen Door, Scott Jones' modern southern kitchen, in May. August saw the opening of Tei An, featuring Japanese soba noodles, as well as Jorge's, fresh and delicious Mexican/Texan fusion since the 1950's. Fedora's Italian Restaurant & Lounge opened in November of 2008.
For more information about One Arts Plaza, visit our website at http://www.oneartsplaza.com.
###