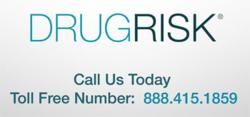 Anyone affected by an injury after using a prescription drug is urged to talk to their doctor immediately.
New York, NY (PRWEB) November 20, 2012
A report issued by the Institute for Safe Medicine Practices' QuarterWatch (PDF) on October 3, 2012 estimates that prescription drug complaints to the FDA have risen 90% in the past 4 years, and two drugs, Pradaxa and Chantix, are responsible for 37% of that increase.
Experts have also recently warned of the safety of birth control products Yaz, Yasmin and NuvaRing.
Last month, the American College of Obstetricians and Gynecologists renewed warnings that birth control pills containing drospirenone such as Yaz and Yasmin may have a higher risk of causing blood clots, according to the Chicago Tribune on October 24, 2012.
On June 14, 2012, the New England Journal of Medicine also published a study finding vaginal ring contraceptives could relate to a 2.5 to 3-fold increased risk of blood clots over oral contraceptives.
The Drug Risk Resource Center is committed to making prescription drug usage safer through public awareness of the latest research, safety warnings, FDA recalls and legal action.
Already, legal action is underway in federal courts for patients who used Pradaxa, Yaz, Yasmin or NuvaRing and claim they were injured.*
In addition, legal action over the IUD contraceptive Mirena is on the horizon as Fox News reported on November 11, 2012 that Bayer faces growing claims that the device caused perforation, infection and hemorrhaging injuries.*
Anyone affected by an injury after using a prescription drug is urged to talk to their doctor immediately. They may also learn their legal options by speaking with a lawyer. Due to the specialized nature of these federal MDL cases, the Drug Risk Resource Center only recommends lawyers who are already handling drug injury lawsuits.
For the latest information on research, side effects, FDA recalls and legal action related to the most popular prescription drugs, or to speak with a lawyer, visit http://www.DrugRisk.com.

MDL No. 2385, IN RE: Pradaxa Product Liability Litigation, Southern District of Illinois.
Yasmin and Yaz (Drospirenone) Marketing, Sales Practices and Products Liability Litigation (MDL No. 2100, Southern District Illinois).
In re: NuvaRing Products Liability Litigation, No. 08-md-1964, JPML, Eastern District Missouri.