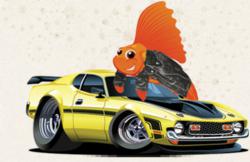 [C]onsumers have to understand that as technology advances, so do the criminals who hack into the technology.
New York, NY (PRWEB) August 07, 2012
RoadFish.com men's lifestyle and finance magazine urged users to proceed with caution when using personal finance apps after a recent Business Insider article revealed the many security dangers of personal finance apps. The article did offer many tips on how to stay safe, despite fraudulent apps and the loss or theft of phones. RoadFish.com released its own observations on the matter, and offered up its own helpful advice.
Business Insider released an article last week urging consumers who choose to mobilize their finances by using personal finance apps to heed their advice for keeping precious information safe from theft and hackers hoping to steal money or even one's identity. The article states that the security firm Lookout quoted approximately $30 billion worth of cell phones being lost last year. Some tips the article offered were to set strong passwords for apps, watch out for fake apps created by criminals hoping to steal sensitive information, and to make sure that one's phone is able to be wiped out remotely in the event of loss or theft.
RoadFish.com sings the praises of personal finance apps, but warns users to always be on guard. RoadFish.com's Senior staff writer is quoted as saying, "5 years ago if I lost my phone, I'd be scrambling to get all of my lost contact information back. If I lose my phone today, I'm scrambling to delete my finance apps, I'm worried about people having access to my email, my social media, even my credit score. It's a very different world, and consumers have to understand that as technology advances, so do the criminals who hack into the technology. I think finance apps are handy and great, but they should be used responsibly, with strong passwords and the knowledge of how to disable them at any time."
Personal finance apps recently became popular with the widespread use of Smartphones, and the ability of a Smartphone to feature apps for many different consumer needs and purposes. Personal finance apps have been developed to do everything from track a user's spending habits and create a graph of spending categories, to remind consumers of upcoming bills, to streamlining somebody's many bank accounts onto one easy-to-see screen. Bankrate.com lists some of its top personal finance apps as Ace Budget, Mint, Loan Calc Pro, Debt Tracker Pro, Grocery Budget, and Money Pass.
According to the Identity Theft Resource Center (ITRC), the crime of identity theft is actually once of the fastest growing offenses in the U.S. and spreads well beyond the scope of merely being financial theft. Identity thieves can go after medical identity, government identity, and even criminal identity. ITRC's website states that identity theft occurs when somebody fraudulently acquires sensitive information used to identify individuals, such as a Social Security number, and uses the information in such a way as to take advantage of that person's finances, medical benefits, citizenship, and even government access. This can be done by obtaining somebody's stolen or lost phone, wallet or purse, through an internet scam, or many other methods that thieves use to obtain personal documents and sensitive information.
RoadFish.com men's lifestyle and finance magazine today commented on taking extra security measures when using personal finance apps, to prevent identity theft as the crime increases within the U.S. and as more and more personal information finds its way to people's phones.
About RoadFish.com
RoadFish.com is a popular online men's magazine which includes topics such as lifestyle, personal finance, and travel. RoadFish.com's regular readers are men in their 30's and 40's who have already been successful with personal and business goals, and are striving towards more. RoadFish.com men's lifestyle and finance magazine features articles about men's luxury items, hot chicks, divorce tips, food and hotel reviews, and the latest in personal finance technology. It is owned and operated by Purpose Inc.