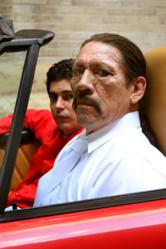 I love independent film. And I know you do too. Right?

I said, right?
Los Angeles, CA (PRWEB) March 07, 2013
Through Kickstarter, more than 750,000 people have pledged over 75 million dollars to fund independent film projects since 2009. Recently Kickstarter teamed up with the Sundance Institute's Artist Services to provide creative funding for the Institute's alumni. Director Frankie Latina and writer Gilbert Trejo, worked through the Sundance Institute Artist Services curated page on Kickstarter to raise funding for their project. Frankie Latina Motion Pictures announced today that shooting is gearing up in Milwaukee, Wisconsin and is slated to shoot later this spring.
In SNAPSHOT, a young photographer finds a roll of film in an old camera that contains images he soon wishes he'd never seen. At first intrigued and determined to find out more about the pictures, he comes to the attention of the people to whom the camera belongs and the young photographer is drawn into their deadly world—a world from which they most definitely don't want him to escape.
"Snap Shot" stars Danny Trejo ("Heat"), Kumar Pallana ("The Royal Tenenbaums"), Mark Borchardt ("Cabin Fever"), Michael Sottile ("Reservoir Dogs"), Nikki Johnson ("Modus Operandi"), and Kelly Cunningham ("A Glimpse Inside the Mind of Charles Swan III").
'I love finding unknown, talented directors. I don't understand why more big name actors don't do it. Because the unknown guy you work for today, in three years he's got his own studio. And that's paid off for me more than once." Trejo said. "Working on Modus Operandi with Frankie was a lot like working with Robert Rodriguez. Guys like that have an incredible vision and I'm excited to see what Frankie
does with this story."
Trejo and Latina appear in a sharp little promo video on the Kickstarter page for Snap Shot. It can be viewed at Snap Shot Promo
Latina has been named one of the 25 new faces of independent cinema, as well as receiving other accolades for his debut feature "Modus Operandi" which bowed at AFI. This film, as in Latina's previous works, will feature a rich palette of vibrant colors, dynamic symmetrical compositions, stylish fashions and preternatural attention to razor-sharp details.
About FRANKIE LATINA MOTION PICTURES
Founded in 1999, Frankie Latina Motion Pictures is a film production company owned by filmmaker Frankie Latina and is located in Milwaukee, Wisconsin. Kino Lorber acquired the U.S. rights to the company's first major success "Modus Operandi" which played at the Historic Grauman's Chinese Theatre, IFC Center in New York and the AFI & Cinevegas Film Festivals. Latina's cutting-edge style resonates with the American New Wave era in cinema.