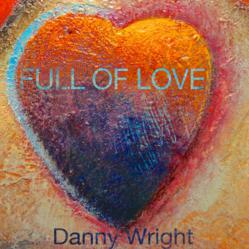 Every time I listen to the piece, I feel different facets of her, which add to the picture you have painted with the song.
Las Vegas, NV (PRWEB) February 05, 2013
As each new year rolls around, people from all over the world begin reaching out to Danny Wright, the composer and pianist also referred to by his loyal fans as The Healer of Hearts, hoping he can capture their love story in song. Word has spread of Wright's unique gift for capturing a life or love story with his piano, and, to date, the artist estimates he has done upwards of 150 songs commissioned by individuals to commemorate a loved one here on earth or "already in heaven" as the soft-spoken artist would say.
Today, WH Sound Studio -- Wright's independent record label in Las Vegas -- announced a special release of these love songs, titled FULL of LOVE. The double album of 20 all new and original solo piano tracks is timed for Valentine's Day gifting. The artist will discuss the album in a rare interview on UK-based One World Radio on 2/6/13 at 4 pm EST. (http://oneworldradio.org.uk/#)
Wright recently described how he goes about gathering inspiration for each song requested, saying, "Once someone sends me a paragraph about their loved one's personal story or their love story, I take some time to live with it. When it feels ready, I set aside time to meditate on the piece just before recording it in a very relaxed studio atmosphere. At that point, I feel that God takes over and the music simply flows through me until it seems peaceful and, somehow, complete. Some pieces are longer than others, and they vary quite a bit within the solo piano style. I feel really blessed and honored when people hear their song for the first time and call me, often in tears, saying that I truly captured the essence of their love story or beloved family member. On some occasions, they even order sheet music of the song to learn to play it for themselves."
Peter, a fan who recently connected with Wright to create a song for his wife, shared this feedback about his experience: "Words are very difficult to describe how I feel about the song 'My Guiding Light (Barb).' The best I can come up with is WOW. It's absolutely stunningly beautiful - somehow capturing the many beautiful, varied traits of Barb, a simply wonderful wife, Mom and friend to many. There is something very, very magical about this song...the way you have captured Barb's many different traits and woven them into a tapestry of her as a person, sends a very warm shiver up my spine. Every time I listen to the piece, I feel different facets of her, which add to the picture you have painted with the song. I often take a blank piece of paper and write down different words/things that came to mind as I listen to the song. It's fascinating! I feel very blessed to have met you and have this wonderful keepsake made in memory of my wife, Barb."
Wright's uniquely personal love songs often inspire online music videos, created by family and posted on YouTube. A search of "Danny Wright" turns up dozens of videos of Wright's songs with titles like "Song for BJ", "My Guiding Light (Barb)" and the recent post called "Frank's Theme."
Upon its release, Full of Love received a featured position on iTunes U.S. homepage; it is available both digitally and as a limited number of physical CDs; the latter is only by special order via phone to WH Sound Studios at 702-724-0918. It can be found on iTunes and Amazon.
As for other new releases, the label will re-issue (in digital format) two albums from Wright's back catalog called Moods Of Indigo and A Day In The Life during the week of February 11, 2013. In January 2013, WH Sound Studio launched a new digital compilation called Barbra Streisand: The Piano Tribute Album, featuring favorites made famous by the star, including a previously unreleased cover song recorded by Wright. Another recent release includes And the Oscar Goes To…, which was chosen for Amazon's new FILL YOUR CLOUD $5 album promotion. Since October 2012, WH Sound Studios has re-released ten catalog favorites, and five new digital compilations, including Classics the Wright Way (Classical Favorites), Wright on Broadway (Broadway Favorites), Danny Wright: The Essential Collection, and Danny Wright: Home for Christmas. To review the full catalog, please visit the redesigned website at http://www.DannyWright.com
Recently, Wright signed with Starvox Entertainment for bookings, while WH Sound Studio struck new distribution agreements with Music Design for the alternative retail market, and with Planetworks for international physical distribution. BFM Digital manages digital distribution, and CPI Distribution handles physical distribution for North America and Amazon.
For review copies, interviews and additional information, please contact Beth Hilton, The B Company, at 310-560-8390.