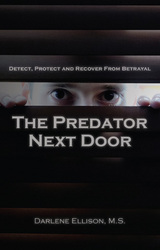 At the time, I had never even heard of these monsters, who advocate for the legal sexual exploitation of young boys. My life went into a tailspin.
Dallas, Texas (PRWEB) February 12, 2009
It was a sting operation years in the making. The FBI had planted an undercover agent among a group of dangerous pedophiles. Four years ago today, seven members of the North American Man/Boy Love Association (NAMBLA) were arrested, eventually resulting in jail time and the breakup of the organization - at least on the surface.
One of those arrested, Phillip Todd Calvin was known in the Dallas neighborhood of Lakewood as the "singing dentist." He was believed to be a pillar of the community, even by his ex-wife, Darlene Ellison.
"I was absolutely stunned when an FBI agent sat me down and explained that my ex-husband and the father of my children was a member of NAMBLA," Ellison said. "At the time, I had never even heard of these monsters, who advocate for the legal sexual exploitation of young boys. My life went into a tailspin."
But Ellison fought back, eventually finding her voice as an opponent of NAMBLA and an advocate for children. Today she releases a new book titled "The Predator Next Door: Detect, Protect and Recover from Betrayal" that chronicles her family's journey and helps others who have been betrayed and hurt by predators.
Even though NAMBLA was disrupted and allegedly disbanded by the sting operation, Ellison warns that many of its members were simply driven underground.
Ellison's ex-husband spent just two years in jail for his crimes. Upon release, he was assessed as displaying the highest risk level for sexual predators, giving him the label of sexually violent. These individuals have impaired judgment or control, paired with sexual or violent compulsions
"At the time of the arrests, NAMBLA was operating pretty much out in the open," Ellison said. "The FBI's actions forced them to act more covertly. Make no mistake: these are habitual, dangerous predators. Just because they served some jail time and are no longer holding annual conventions does not mean they are not a threat to our children."
Based on Ellison's experiences and education from the FBI and other experts, "The Predator Next Door" is a guide to detection and protection for concerned parents. It is also a book for anyone who has ever felt the shame, humiliation or guilt that all betrayal brings its victims, whether that betrayal is infidelity, lies, theft and or something else. Each chapter ends in specific, practical exercises that Ellison used during her own journey of betrayal recovery.
Published by HTA Books, "The Predator Next Door" is available for a list price of $14.95 at http://www.predatornextdoor.com and Amazon. It is a paperback in the self-help category. ISBN#: 978-0-9822864-0-1.
To request a review copy or to arrange an interview, please contact Lesley Hensell at 817-797-0910.To arrange for Darlene Ellison to speak to your group, contact her: Darlene "at" darleneellison.com. Photos and media materials are available at: Predator Press Room.
###