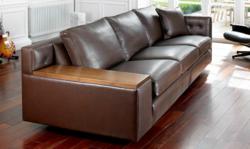 Overall, it seems that interior design in 2013, whilst continuing the interest in organic materials and shapes, is keen to bring back a splash of colour.
(PRWEB UK) 22 March 2013
Between the London Design Festival, which was held in September last year, and the Maison et Objet exhibition in Paris this January, there has been clear evidence of the direction interior design is going in 2013. The UK-based maker of designer sofas Darlings of Chelsea examines some of this year's key themes and interior design ideas, and how they can be incorporated into a home.
Grouped mirrors
An excellent means of livening up a bedroom or living room wall, the idea of grouping small mirrors has proven to be a recurring motif at interior design shows. To make the arrangement really work, it's a good idea to use round hang mirrors or differing sizes and placed in an apparently random manner. Also, odd numbers work best - there's no need for symmetry here.
Natural materials
Whether it's wood, stone or plant life, there is an evident trend for truly natural materials in furniture in 2013. The Maison et Objet show in Paris featured a stand by Verde Profilo who took the exhibitions theme of 'Vivant' rather literally by presenting furniture covered in white moss.
The London Design Festival also featured furniture with a very natural appearance and texture. As reported by lovehome.co.uk, many of the designers used unvarnished pale woods like oak, beech and birch, keeping elements of the bark, some of it covered in lichen.
A natural material of a very different character, marble is also becoming increasingly popular with designers in 2013. Used as a tabletop, or even simply as a wallpaper pattern, its veined stoney appearance adds a touch of grandeur to an interior.
Brass & Glass
For light fittings and other ornaments, brass and copper are two materials very much in evidence at recent design exhibitions. Excellent as candlestick holders and even lampshades, the golden reflected glow of these metals is both luxurious and warming.
Cut glass too, has been a common feature, with innovative and interesting takes on classic decanters and vases, adding to a growing sense that designers are looking for a touch of glamour, albeit of the classic and authentic variety.
Botanical & Geometric patterns
Both lovehome.co.uk and the designer Richard Brownlie-Marshall in his blog for the Huffington Post have picked up on the emerging prevalence of retro botanical and geomatric patterns. Designs with 1950s plant illustrations are an increasingly popular choice for wallpapers and cushions alike. This distinctive style was very much in evidence at Maison et Objet where Orla Kiely had a stand exhibiting a new furniture, lighting and accessories range.
Brownlie-Marshall points out that bright cushions and rugs with retro geometric patterns contrast beautifully with large pieces of furniture with pale colours and simple designs, such as contemporary designer sofas. Something clearly demonstrated by the new Orla Kiely range.
Overall, it seems that interior design in 2013, whilst continuing the interest in organic materials and shapes, is keen to bring back a splash of colour - that and the sense of luxurious authenticity that solid materials like marble and brass, as well as handmade leather sofas, can bring to any interior.