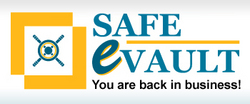 Dallas, TX (PRWEB) July 31, 2008
Market research firm Gartner says that less than 1% of small businesses perform daily backups. During the recent floods in the Midwest and fires in the West, many businesses suffered potentially door closing data losses from destroyed or missing backup devices.
Many of these businesses relied exclusively on tape drives or other hardware based solutions which left them at a high risk of losing all their mission critical data and applications.
According to Pricewaterhouse Coopers, 7 out of 10 small firms shut their doors within a year if they experience a major data loss that cannot be recovered. There is no reason for businesses to put themselves in this situation.
Business data and critical applications can be protected from almost any type of disaster by using the fastest growing data protection solutions on the market today -- Remote Online Data Backup and Virtual Application Server Replication. Several IT service providers offer services for backing up business critical data, and a few also provide application server restoration, via the internet, at very affordable prices.
Too many small to mid-sized businesses lost business critical data and application servers in recent disasters. Online data protection solutions would have allowed most of these companies to gain access to their data and server applications immediately via the internet. Companies can be back in business within hours, not weeks, just by logging onto any computer with internet access.
XYZ Company sustains a flood and loses its critical data and the use of its application servers. Online solutions allow access to their business applications by using a virtual desktop accessed by a secure web portal. The user backs up critical data into a virtual business continuity network housing their applications and in a few hours XYZ Company is back in business.
Most online service providers offer a free trial period. Owners or IT managers shouldn't wait until disaster strikes and it's too late to save their business. Utilizing a free evaluation period is the best way for a business to see how easy and inexpensive it is to protect their most valuable asset -- their data and mission critical applications.
About SafeEvault:
Our nearly two decades as an information technology service provider, and the new VBCN technology, sets us apart from other online backup service providers. Years of extensive calibration of sophisticated software, investment in the most advanced network devices and the latest security technologies, makes SafeEvault the leader in business continuity and online backup solutions.
Contact:
Greg Fanning, National Sales Director
SafeEvault
888-738-2858 opt.2
http://www.safeevault.com
###