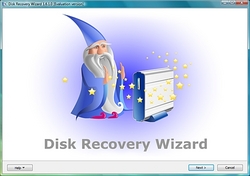 Milpitas, Calif. (PRWEB) February 15, 2009
WizardRecovery Company, a leading provider of data recovery, hard drive recovery and disk repair tools, updates Disk Recovery Wizard, a solution for home and small office users that recovers corrupted disks and restores damaged files and data. The newest release includes a brand-new recovery engine, making disk scans faster than ever before.
About Disk Recovery Wizard
Aimed at home and small office users with little or no prior experience in data recovery business, Disk Recovery Wizard combines sophisticated data recovery algorithms with simple, easy to learn user interface. Its step-by-step, wizard-based user interface makes recovering large amounts of lost data from healthy and corrupted media as easy as clicking Next.
The in-house PowerSearch engine is completely re-designed in this release of Disk Recovery Wizard. Allowing to recover more data than recovery engines relying on file systems, PowerSearch scans the entire surface of the hard drive or reads the entire memory card in order to locate the exact position of each recoverable file on the disk. Supporting more than 150 types of files such as office documents, compressed archives, email, pictures and multimedia files, PowerSearch is now faster than ever, boosting the recovery speed significantly as compared to previous versions when recovering large disks and partitions.
Disk Recovery Wizard comes equipped with LivePreview, yet another usability technique introduced by WizardRecovery. LivePreview allows paying and evaluating customers to see exactly what's going to be recovered by displaying full WYSIWYG previews of recoverable files before they are being saved. The technology reduces chances of accidentally recovering old revisions of documents when newer versions are available, or restoring broken files such as digital pictures.
Disk Recovery Wizard supports all versions of Windows from Windows 95 to the latest Windows Vista and 2008 Server, and recognizes every revision of FAT and NTFS file systems.
About WizardRecovery Company
WizardRecovery Company mixes magic with technology. Synergy of both transforms a complicated process of data recovery into a magically easy spell. WizardRecovery Company delivers usable products appreciated by thousands of customers every year. Making it easy to everyone to repair damage and fix corruption that happen to hard drives, memory cards and other storage media is the ultimate goal of WizardRecovery Company.
Evaluation version of Disk Recovery Wizard can be downloaded at no charge from http://wizardrecovery.com
###